Samantha Stanfield started contemplating a return to the basketball court late last spring – right around the time she was helping Montesano High School capture the Class 1A state fastpitch title.

Stanfield, who was named the 1A Evergreen League's defensive MVP last year in fastpitch, had played basketball during her first two years of high school before electing to skip her junior year so she could focus more on fastpitch.
The decision proved to be the correct one as Stanfield will play fastptich at Central Washington University next year.
Once that weight was removed, Stanfield's next decision was whether or not to take up basketball again.
"I wasn't sure if she was going to come back out," Bulldogs coach Julie Graves said. "She approached me last spring and said she was thinking about it. She played some in the spring and summer for us, but you never know until that first day of practice and you see who actually shows up in the gym."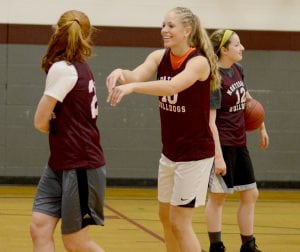 Stanfield did show up, but she was not alone, convincing fellow seniors Hannah Hatcher and McKenna Miller, both who had not played basketball since their freshmen year, to join her.
"I talked them into it," said Stanfield, who stated she did not finalize her decision to turn out until the week before practice started. "I just really missed it last year and being our senior year it was pretty important to us to come back. I heard it a lot from people when I didn't play last year. I went to as many games as I could (last year). It was awkward seeing them play without me being on the team. So we're super excited to be back out."
Stanfield is coming off a soccer season where she was the league's offensive MVP, helping the Bulldogs to the state tournament, and according to her coach has brought a strong positive vibe and much-valued leadership, as well as her versatile athletic ability, to the squad
"She's always positive, not matter what is going on. It's been great having her back. She's really coachable. She wants to get better," Graves said. "She'll stay after practice and work on things. She'll come in early and get some extra shots in. She's just always working hard. She wants to be the best player she can be."
Graduated from last year's team, which advanced to the state tournament and made it to the regional round of state for a fifth consecutive season, is Jordan Spradlin, last season's 1A Evergreen League MVP, and a host of players who earned all-league recognition, including Josie Toyra, Shayla Floch and Cheyann Bartlett.
"There's been a lot of energy in the gym during our first two and half weeks," Graves said. "The kids are really excited about the season and the possibilities. We don't know what our potential is yet."
Returning varsity letterwinners include senior Haylee Perkinson, juniors Lexi Lovell, Matti Ekerson, Katie Granstrom and Glory Grubb, and sophomore Zoe Hutchings.
"These kids are athletes and they want to go out and compete and do well," Graves said. "It's definitely a true team. In our first game they were all willing to pass to the open person and we had balanced scoring. It felt like they are all really willing to find the person out there who has the best shot. They're willing to get an assist to give it up to their teammates."
In addition to Miller and Hatcher, the Bulldogs' roster also features newcomers in senior Kaydee Mittleider and freshman Zoee Lisherness.
"Even though this is a new year with a new team, these girls have had the opportunity to practice with and against some talented players the past couple of years," Graves said. "This team knows how to work hard and have fun, while continuing to improve on a daily basis."