If you are like me, you love snow. And if you love snow, you probably agree that life out in Grays Harbor doesn't give us enough. Living so close to sea level, with warm winter storms and rain, snow days are less common out here. While the rest of the state seems to always have a snow event or two, when we receive more than a dusting of the wonderful white stuff, we lose our collective minds with wintery joy. The snow transforms small hills into incredible sledding destinations for kids of all ages, becoming memorable childhood experiences that will be talked about for decades to come.

For some of us older community members, we remember the heavy snows of the mid-1990s, when feet of snow fell along the beaches at Ocean Shores. While that may not happen this year, residents of Grays Harbor still have a few opportunities to go out and find snow, it just might take some work. Grays Harbor receives an average of one inch of snow a year, compared to the US average of 26 inches, so our chances for recreation in snow are minimal. If it does snow in the lowlands of Grays Harbor, find any hill you can and take advantage of it for as long as you can, before it melts away for good. If it doesn't snow in the lowlands, we have to be creative in order to find snow for family fun, which is why we suggest the following locations.
Wynoochee Lake
Once the snow level drops to around 1,000 feet above sea level, a trip out toward Wynoochee Lake will have you reaping the benefits of a wintery forecast. Typically snowy in January and February, the hills around Weatherwax, or even up closer to the seasonal closed road north of the lake, will let you build a snowman, have a snowball fight and possibly even sled down a few of the logged out hillsides. You can also try to approach Wynoochee Lake from Donkey Creek Road. I have had luck finding snow out this way most years. However, don't assume the road will be passable all winter, so check before you go. We also recommend hiking the Spoon Creek Falls trail with some snowshoes if the snow is good enough. You'll see incredible animal tracks and possibly some frozen falls!
Capitol Forest
In the eastern edge of Grays Harbor, the Capitol State Forest is your best bet for accessible snow, as numerous roads lead to the higher elevations. Accessible from the Mox-Chehalis Road, just south of McCleary, the Porter Creek Road will grant access to both the B and C Line trails, which get to the summits of Larch Mountain and Capitol Peak. Both summits see snow during the winter, and the closed roads and hills mean fun sledding, fantastic snowshoeing and possibly even some unique cross country ski routes. This location, like Wynoochee, will require a bit of walking to get to good snow.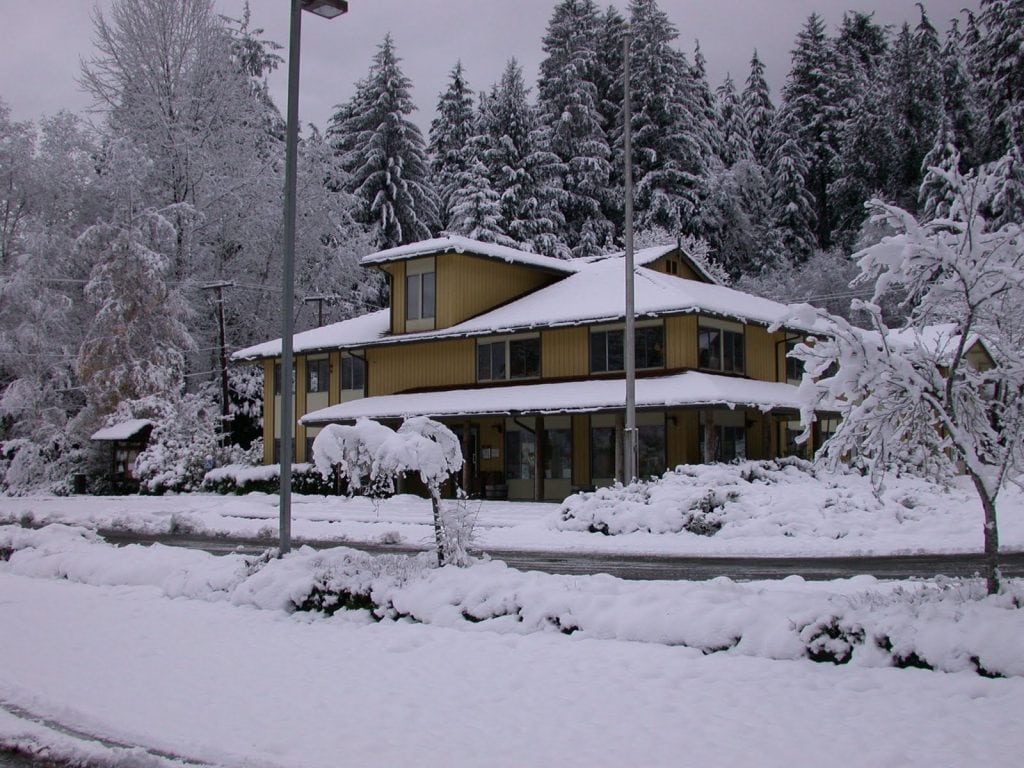 Colonel Bob and the Quinault
One local peak that always has snow, but might not be as kid-friendly as the other destinations, is Colonel Bob Peak above Lake Quinault. Also accessible near the Donkey Creek Road, this region sees little sunlight during the winter months, keeping the temperatures cool and the snow, if it has fallen, around for a lot longer. Colonel Bob Peak will have snow during the winter months, but should only be attempted by experienced hikers and winter adventurers. Those looking for something a bit more low key than a winter mountain summit should drive down to the Campbell Tree Grove Campground after a snow fall. There is nothing quite like exploring the snows around old growth and wild timbers.
Mount Rainier
The reality of winter in Grays Harbor means that we might not get any lowland snow this year, so it is always better to have a dependable backup plan. Yes, it will be a longish drive from our coastal towns to get to Mount Rainier, but there is nowhere in the Pacific Northwest more beautiful and accessible than our state's iconic volcano. While you'll need to have chains in your car (if not on your vehicle) to get up to Paradise, the wintery wonderland that awaits you is second to none. Trees, weighed down with snow, look like something out of a Dr. Seuss book, and miles of trails for all ages are found at both Longmire and Paradise. Paradise is your snow guarantee during the winter, as the region experiences an average of 53 feet of snow a year. With numerous activities, including ranger-led snowshoe walks (snowshoes included) and a sledding area for kids, this road trip snow adventure needs to be added to your list.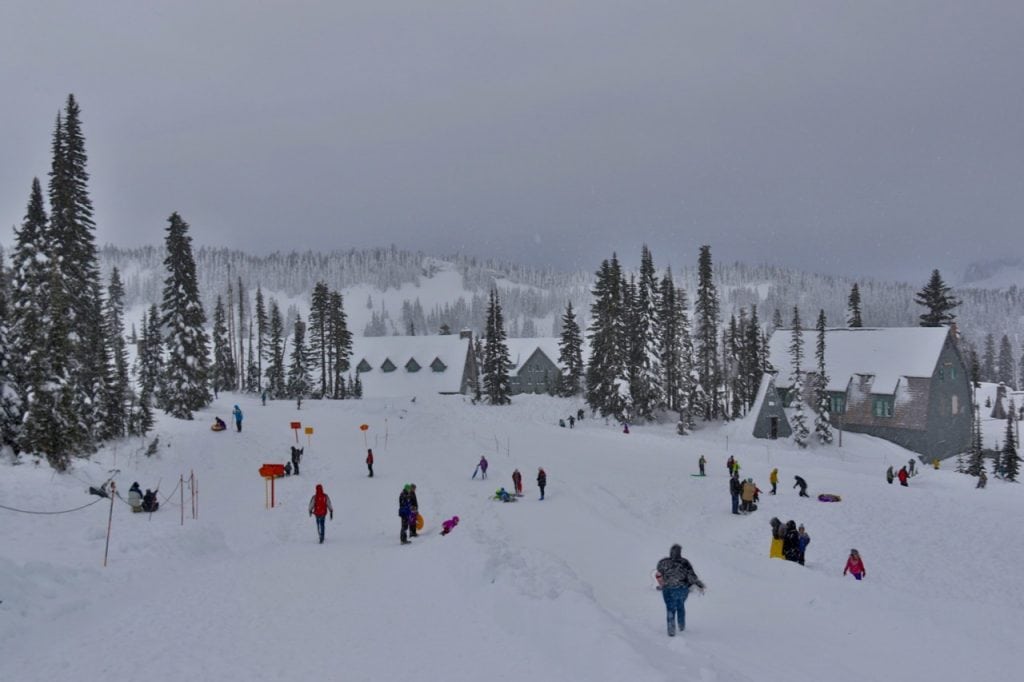 Your best bet for finding sleds, gloves and winter clothes is to head out to your community's Dennis Company Store. Located in Aberdeen, Elma, Montesano and Raymond, the Dennis Company has been supplying Grays Harbor residents for over a century with everything they need to stay warm, happy and dry, no matter what the weather or season. Known for carrying seasonal gear perfect for any adventure, a stop here will reconnect you with the history of the region, as well as giving you a great deal on sleds, gloves, hats and more.