The hub of Montesano is its only supermarket, Pick-Rite Thriftway. And the heart of that hub is Ann Galland, whose great-grandfather S.W. Pickering founded the first Montesano family grocery store.

The family business started in 1906 as Pick's Red and White in the space now occupied by El Rancho Mexican Restaurant. In fact, Ann points out that blue tiles with "P" for Pickering adorn the top of the stately brick building. S.W. Pickering and his wife had four sons, Lloyd, Harry, Claude and Fred, and a daughter, Faye, who owned grocery stores throughout Grays Harbor.
The oldest, Lloyd, was Ann's grandfather. When he died in 1941, his widow, Clara, ended up owning and running the Montesano store. Lloyd and Clara's only child, Chris, who was a 19-year-old student at Washington State College, came home after his freshman year to attend Grays Harbor College and help his mother run the store. Then a few years later, World War II interrupted his plans again, and he was drafted into the Army, leaving his mother – like so many women of the time – to run the store.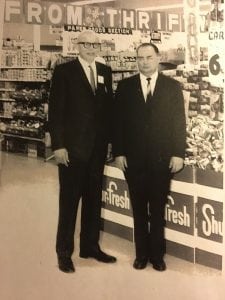 The Great Depression was tough on the business and the big brick building was lost. However, Ann says, the investors knew how important the grocery store was for the community, and allowed it to stay open.
Then, in 1963 the Montesano Development Corporation constructed the Montesano Shopping Center and approached Ann's father, Chris Pickering, and another small grocer in town, Glen Townsend, to join forces and become a modern supermarket and the anchor tenant of the huge new building.
Ann remembers the excitement of the opening day at 211 Pioneer Ave. E. She was 9-years-old then, and recalls the front-page newspaper coverage of the modern supermarket, which praised its "piped in music and automatic doors." The store has remained there ever since.
She also has fond memories of growing up in the grocery business, going to work with her dad and grandfather. "The only Christmas Eve that I didn't work was in 1984. That's because I was in the hospital having Meghann."
It wasn't just the Depression that was a tough time for business, Pick-Rite has had its share of challenges over the years, Ann recalls. Those include the expensive EPA- mandated tearing up of the parking lot a few years back because a former gas station had been located there, as well as the winter storm of 2007, when the lack of power not only shut the store down for three days, but also necessitated throwing away a dumpster of spoiled food.
"We've been through lots of challenges that we've had to meet head on, through just buckling down and keeping our nose to the grindstone," says Ann." I look back and see how many times it would have been easy to walk away, but Great-grandpa Pickering's legacy is still strong."
Ann and her husband Marc Galland now run the Thriftway, since purchasing it in 1993 from her parents, Chris and Jo Pickering. And they run it just as her great-grandfather would have wanted. "Our goal has always been to take care of the customer because they have chosen to come into our store," Ann shares. "Whether it's for a loaf of bread and a head of lettuce or for their whole week's grocery shopping, we want to provide them with a quality shopping experience by offering the best available quality at a fair price. And I can stand unequivocally behind these words because that's how I was raised and if we didn't have integrity, we wouldn't still be here."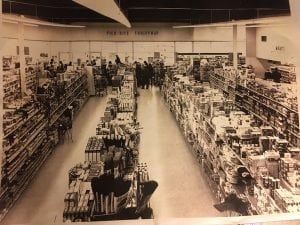 Marc devotes much of his time to marketing and merchandising, while Ann can usually be found in the floral department or at the service desk, helping people she's known for decades as well as keeping track of who is going with whom to the latest high school dance. However, now that their daughter, Meghann, 33, is married and teaching sixth grade science in Sumner, Ann relishes her occasional day off to watch 10-month-old granddaughter, Mia.
A Heart for Community
The Pickerings have a legacy that is about more than just a grocery store. It's about the positive impact the family has had on the community over the years. For the community, Pick-Rite Thriftway is the go-to place to hold bake sells and other similar fundraisers. Ann keeps a master calendar behind the service counter with about 50 bake sales a year typically scheduled. A 1973 Montesano High School grad, Ann knows the value of those fundraising opportunities for the schools' teams and clubs, as well as other community groups.
And that's not where the community outreach stops. A generous sponsor of many community groups, Pick-Rite also always has a fun presence with its huge shopping cart in the Montesano Festival of Lights parade each December, and over the years has given a myriad of students their first job as a courtesy clerk.
Now after 55 years at 211 Pioneer Ave. E., Pick-Rite Thriftway is embarking on a major remodel. The store will be open during the construction.
"The old girl needs a new dress," says Ann in her usual upbeat manner. "Marc and I are looking forward to this exciting time of renewal and the positive improvements that this latest remodel will offer our customers and our community."