It takes a big heart to give back selflessly to others while working every day to overcome personal obstacles, but that's exactly what Aberdeen resident Bill Jones does. He is a light of inspiration as he works towards a positive future for himself and for many families in the Grays Harbor area.

For the last five years, Jones has been a parent coordinator and ally in a program called Dads Matter that serves Grays Harbor and Pacific County. Dads Matter is a 12-week referral based informational course that supports fathers with children in the court system. Fathers are given valuable information in the program that provides essential tools needed to take the best steps for themselves and their children. Everything from the statistical importance of engaged dads to the best ways to take care of themselves and work toward breaking any harmful cycles in their lives are all covered under the curriculum.
What Dads Matter Does
• Concrete information about how the child welfare system operates
• Guidance on how to effectively engage with social workers, attorneys, providers and the courts
• Information about community resources specific to fathers
• Support in the father's efforts to be involved in the lives of their children
• Assistance in clarifying points of confusion and resolving problems with other providers
• Designed to support and strengthen dads at every stage of their journey
(Information courtesy: Dads Matter)
"We started doing these things to give them a better understanding of why they're important other than just 'because you're the dad,'" Jones says. "You have a role to play here and so we're going to help you get those tools and do that."
The program doesn't guarantee the participants will get their children back, but those that have graduated generally see a much higher success rate. Between 80 and 90 dads have graduated so far from this program.
Jones has a passion for helping others and his personal life story of overcoming a lifelong battle with addiction has helped him be an understanding advocate as he helps these families.
The Love for a Child Overcomes Addiction
Jones has a long history of drugs negatively affecting his life. When he was 5-years-old, growing up in southern California, he was prescribed Ritalin for ADHD. And by the age of 9, he began taking two pills at a time because it helped him perform better in school. When he was 14-years-old, he moved to Grays Harbor and his drug abuse escalated as he began using drugs intravenously for the next 29 years.
He was infamous in Grays Harbor at this time and was in and out of serious trouble with law enforcement. He spent time in prison for the manufacturing of methamphetamines and was in prison from 1997 to 2001. He got out on a technicality and won his appeal. Once released, he went back to using meth, but no longer distributed due to keeping a promise with his mother that he wouldn't manufacture anymore. Sadly, his mother passed away in 2005.
In 2006, his daughter Emma was born and in January 2008 Child Protective Services removed her from his care due to neglect. After she was removed, Jones went into a downward spiral using drugs heavily for the next several months. During this time, he wasn't very cooperative with social services.
"I dove deeper into my addiction," Jones says. "I was not very workable with the department and in June of 2008 I went to my social worker and said 'I just can't do this anymore…I don't want to lose my child and I need help.'"
Jones says he is really grateful that social services stepped in and removed Emma from his care. "Dragging our children through our addiction is not okay," he says. "And the sooner people understand that they have a duty to protect children, even when it's from their own parents, the better off we will be."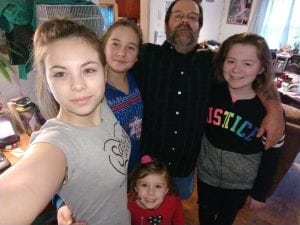 The love for his little girl gave him the will and courage to start fighting against the addiction and he did regain custody of Emma, who is now almost 12-years-old. Jones also has four other children living with him and his girlfriend of 9 years, Michelle. Robi-jean who is Michelle's daughter and Kassidie who is his great niece that he adopted in 2015, and he's fostering a great niece and nephew, Patience and Skyler.
Taking it One Day at a Time
Jones has been clean since August 20, 2008 and still works hard each and every day to maintain his sobriety and says that he does so with a strong support system and that he consciously takes life one day at a time, with good and bad days, knowing that all it will take is slipping up one time to throw it all away.
"I'm very humbled by being able to change my life and do things differently," Jones says. "I'm definitely not about talking about myself, it's more about what I can do to help other people. You know my story is obviously just my story and I am turning out to be productive in the community, which is something that I never dreamed possible. I have a great relationship, I have children, I have people that rely on me for good advice."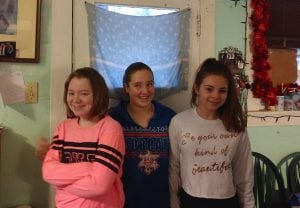 In addition to helping others in many ways for the last nine years since regaining custody of Emma, Jones is currently a full-time student enrolled at Grays Harbor Community College. He is working toward a degree in human services so he can continue to work with parents, be a mediator, and help break down the court system for those whose cases have just been opened.
Jones plans to continue his servicing efforts and there are also hopes to eventually create a mother's program that is like Dads Matter in the future.
Dads Matter meetings are located at the River of Life Fellowship church at 308 W King Street in Aberdeen. Director of the program is Doug Marks. For more information, contact Bill Jones at dadsmatter.bj@gmail.com or 360-589-7624