What does it take win a MikeRoweWORKS Work Ethic Scholarship? Just ask Dylan Volz. The 2017 Elma High School graduate accomplished the feat. "Wow, if I got this scholarship it would help me continue to pursue what I love to do, and I'd be able to contribute to the world out there," he professed in a YouTube video on why he should win the scholarship.
He knew exactly what he would use that money for. "I learned how to weld, stick weld, wire feed and braze pretty quickly, I thought it was cool, I am not just passionate about welding, I'm good at it," he continued.
A Young Entrepreneurial Start
Dylan was four years old when his parents encouraged him, along with his older brother, to join the I-5 Quarter Midget Club. A family organization that promotes racing using child-size quarter midget cars. At just 10-years-old, Dylan created the drawing for his first modified motorized direct friction drive BMX bike that would make it go faster.
During high school, he participated in SkillsUSA, a nationwide student organization for middle and high school students interested in trade and technical skills. He also enrolled in Agricultural Mechanics and Advanced Ag Mechanics. It was during this time he had the idea to start a hobby business. He named his hobby shop The Easy Mile and began to share his talents with friends and family by modifying, building motorized bikes and repairing small engines.
He created The Easy Mile Facebook page, where viewers can keep up to date on his projects. Whether it's fixing lawn mowers, old tillers, weed-eaters or building custom motorized bikes for his friends, this is where he shares pictures that tell his story.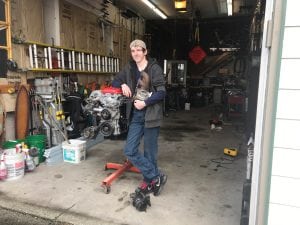 Like when he built a BMX bike, with a 4-stroke friction drive kit, modifying it to last a bit longer and run up to 40mph he explained. "I'll take some of the pieces apart and rebuild them, so they last longer," he added.
Winning the Scholarship
Prior to graduation, and after some encouragement from his parents, Dylan applied for the MikeRoweWORKS Work Ethic Scholarship. A scholarship given to people that have the drive and passion to become trained at skilled jobs. After he filled out the application he created a YouTube video explaining why he should be chosen to receive a scholarship. A few months later, in August he became one of the just over 240 individuals worldwide to receive the 2017 scholarship.
Dylan is using the funds to attend South Puget Sound Community College and plans to graduate with an Associate Degree in Applied Science and a Certificate of Proficiency in Welding Technology. "Not only did I get the scholarship funds, I even got to choose any pair of boots from the Wolverine website," Dylan says with excitement. "I got to pick out a nice pair with carbon fiber steel-toed boots."
Dylan learned a bit from Mike Rowe as well.  "There's a Mike Rowe quote about passion," he said. "It goes like this, 'Passion is too important to be without, but too fickle to be guided by. Which is why I'm more inclined to say, don't follow your passion, but always bring it with you.'"
A Diversified Life
"I want to be a welder, but I know I'll get bored if I have to weld the same things all day long," Dylan said.
So to keep things different, on the weekends he works at Bayview Elma, where he helps in the rental service and can work on Stihl products as a Stihl service certified technician. Dylan is exploring his post-graduation options. "I went to a boat show, and talked to the guys at IMS, Inventech Marine Solutions," he explained. "They get to do welding projects working with aluminum, like for fire and rescue boats. That appeals to me, welding aluminum. It's quite a bit of a challenge because aluminum is more heat conductive than steel."
In his spare time, he enjoys playing live stream video games. "Out of everything, I'd say making YouTube videos is my favorite thing to do," he said. You can find him on his YouTube Channel as FreshNinja, where he has set up an online merchandise shop for his viewers.
And where will Dylan be in five years? "In five years, I'd like to have my own place, a job that provides a sufficient living, and I need my own dog," he replied.