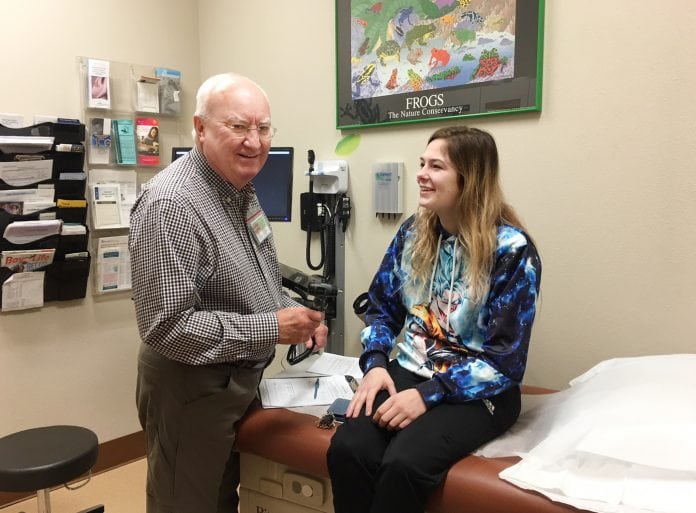 In a great step for localized pediatric care, Dr. Steven Hutton with his calming demeanor and dedication to the welfare of children and pediatric focused Family Nurse Practitioner Jessica Jurasin, ARNP with her bright smile and deep roots in the community, have been welcomed to the Summit Pacific team.
Both Hutton and Jurasin are no strangers to Grays Harbor – having both practiced in the area for many years. Previously working in Aberdeen, they have recently been hired by Summit Pacific with Hutton at Elma Family Medicine and Jurasin seeing patients at McCleary Healthcare Clinic, offering primary care specific to patients ages birth to 21 years. It has been a positive transition for Hutton and Jurasin, who have both began seeing patients at Summit Pacific.
"People here are extremely friendly, helpful, supportive and positive," Hutton says. "I've really had nothing but extremely pleasant experiences being here."
Jurasin has fully embraced becoming part of the Summit team as well.
"There's a lot of energy surrounding Summit," Jurasin says. "As other healthcare systems across the state are struggling and trying to find their way with political climate and changes to healthcare, Summit is really just embracing it and adapting and thinking outside the box. It's an exciting time to be a part of Summit."
Both providers are currently accepting new patients and offer check-ups, sick visits and everything else that patients would normally expect from a pediatrician's office.
"Dr. Hutton and I only provide care to children, so it's more specialized," Jurasin says. "We're excited that Summit is committed to providing that care."
Meet Steven Hutton
Hutton has been practicing in pediatrics for nearly 42 years. He worked in Aberdeen for 27 years before making the switch to Summit Pacific where he can continue to help children in Grays Harbor.
"Although I enjoy seeing children for their annual wellness visits, my passion resides in working with children and their families to assist those who may be suffering from more difficult issues like asthma, behavioral disorders, ADHD, abuse, depression, anxiety, and that type of thing," Hutton says.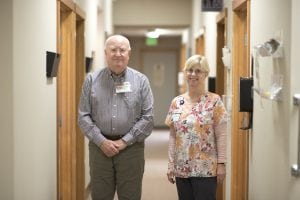 Dr. Hutton's passion for caring for children who may need extra attention extends beyond his day to day work. He's also one of the founders of Connections (formerly known as the Children's Advocacy Center) based in Montesano and stays active in that, stating that he is very proud of the work that is done through Connections for the local community.
Outside of work, Hutton enjoys camping, fishing, watching Seahawks games, spending time with his grandchildren and going on weekend camping trips with his wife, Jill.
Meet Jessica Jurasin
Jurasin started as a registered nurse in 2002 and became a nurse practitioner two and half years ago. She went back to school to become a nurse practitioner when she noticed that the harbor has a high turnover rate for pediatric providers, but she never thought of leaving.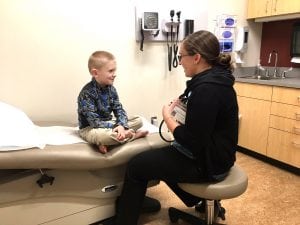 Being from Aberdeen, Jurasin has an intimate understanding of why the harbor is a good place to settle down and raise her two sons Nolan and Ben with her husband, Tyler. "I have a great sense of responsibility and accountability to my patients," Jurasin says. "They're my neighbors and I see them when I go to the grocery store. I see them when I am at my kids' sporting events or music events. It's just very real. They trust me with their health information and vulnerabilities and it's a really privileged position."
Jurasin has a busy life outside of work as a mother. She enjoys spending time together as family, partaking in outdoor activities like hiking or mountain biking. She also enjoys traveling, whether it's regional or international with their biggest trip so far having been to Finland, where she has family. She is also musically inclined and plays the obo as a member of the Grays Harbor Concert Band. Tyler and Nolan are members of the band as well. Jurasin also participates in the local Autism Task Force out of Aberdeen.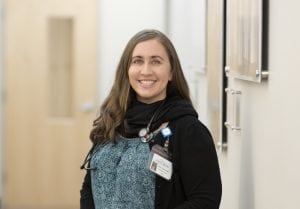 Hutton and Jurasin have known and worked alongside each other since 2003 and although they are working at different locations currently through Summit Pacific, they will work more closely when the new Summit Pacific Wellness Center opens in early 2019 when their practices are moved under one roof. Both Hutton and Jurasin have nothing but positive things to say about one another. "Dr. Hutton is just a wealth of knowledge," Jurasin says. "He's like a walking encyclopedia."
A Greater Cause
Grays Harbor has a large Medicaid and Medicare population and it can be hard for providers to meet their overhead costs, which is why Hutton and Jurasin first began looking for someone to partner with, and ultimately made the move to Summit Pacific. Both Hutton and Jurasin are confident in their new partnership with Summit Pacific, where they are already working hard to develop a robust pediatric program.
"Summit Pacific was very interested in establishing a pediatric program, so it gave me the opportunity to decrease my work intensity, but continue to offer services and pediatric practice to the children in Grays Harbor," Hutton says. "That program is instrumental, not only in diagnosing and treating, but also in prevention of child abuse and family wellness. It's been a great thing for families and children in Grays Harbor."
Both Hutton and Jurasin are eager to continue serving the community with their expertise and look forward to the bright future as a part of Summit Pacific.
For more information about scheduling with either of these providers or other services offered by Summit Pacific, visit Summit Pacific's website or call 360-346-2222.
Sponsored