Every year, March is an exciting month for Aberdeen's Alyssa Caskey and her family. It's not only her birth month, but also when she carries out a special birthday tradition that helps local shelter animals. Anyone who meets the now 10-year-old can see right away she has a huge heart for all creatures, big or small.

In a move that shows great kindness and generosity, Alyssa asks family and friends to donate supplies or money to the PAWS of Grays Harbor animal shelter instead of receiving presents on her birthday each year.
Alyssa is daughter to Kevin and Michelle Caskey and has two siblings, Kasie, 13, and Barrett, who will be 2-years-old in April. "I think she's just an amazing person," says Kevin. "She loves animals, every animal."
When asked about her animals at home, Alyssa has a beaming smile as she talks affectionately about her two dogs, Josey and Fletcher, her cat named Mama Kitty and her fish named Bubbles. She says Mama Kitty is getting old and really doesn't like it when people try to stop petting her now.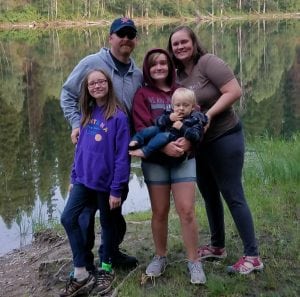 Donating to PAWS has been somewhat of a family tradition for several years in the Caskey family. When Alyssa's older sister, Kasie, was 7-years-old, she tried raising money for the animals with a lemonade stand. That turned out to be challenging because of their location, so Kasie ended up donating to PAWS instead of receiving birthday gifts and continued to do so for a couple of years.
Alyssa then picked up her sister's mantle and began donating to PAWS instead of receiving gifts after sadly losing a pet to cancer. On the day of Alyssa's sixth birthday party, the Caskey family had to put their Labrador Retriever to sleep. It was then that Alyssa decided to follow in her older sister's footsteps and donate to the animals in lieu of receiving gifts. She plans to continue giving each year, her father says he thinks she'll keep doing it until she's outgrown birthday parties.
"It makes me feel good to know the animals have all of the stuff they need," Alyssa says.
Each year the Caskey's host Alyssa's birthday party locally and invite family and friends to come have fun and donate what they can for Alyssa to take to PAWS afterwards. It's becoming more and more of a community event as it's important to Alyssa not to leave anyone uninvited, says Kevin.
"It's tough packing all of the food and the cat litter out to the car," Kevin jokes. "But it's a real enjoyable birthday party."
After her each party, Alyssa enjoys looking through everything that has been donated and is always eager to make her newest contribution at PAWS.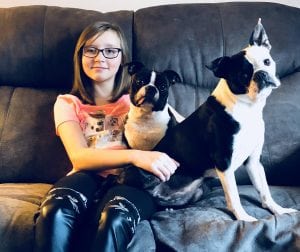 "It's more exciting for her to come home and see what she got for the animals than opening presents for herself," Kevin says. "We're just extremely proud of her and her sister for starting this."
Alyssa has donated supplies and cash for the last three years, helping meet the needs of many local animals.
"It really makes a difference for the animals and that's great," says Kristina Snyder, executive director of PAWS of Grays Harbor. "She's a really sweet girl, great family. Her donation this year has allowed us to spay and vaccinate two dogs and has fed many shelter animals."
In addition to her annual donation, Alyssa also plans to start volunteering at PAWS as soon as she can, looking forward to activities like grooming the animals. Alyssa really does have a soft spot for all animals. Her father says she still loves even the creatures that scare her, saying she won't hurt a spider if she sees one and insists he puts it safely outside. "She's always been that way," he shares, adding that even things like clam digging or hunting can upset Alyssa because she truly cares for all living things.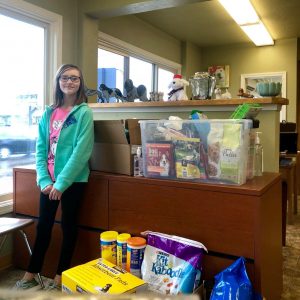 When asked what she likes to do for fun, Alyssa says she likes to go over and play with her neighbor's dog, Scout. She also reads a lot of books on animals and has fun trying to figure out the breeds of animals, like cats, that she knows. She plans to become a veterinarian one day and says she's known since she was 3-years-old that's what she wants to be as an adult.
PAWS is located at 800 W First Street in Aberdeen. There are always volunteer opportunities at PAWS with a monthly volunteer orientation meeting on the last Saturday of every month from 10:00 a.m. to 11:00 a.m. Donations are also always welcome. For more information, visit the PAWS of Grays Harbor website, Facebook page or call 360-533-1141. Their hours of operation are Tuesdays and Wednesdays from 11:00 a.m. to 4:00 p.m. and Saturdays from 11:00 a.m. to 3:00 p.m.