Congratulations, you've made it through another tax season! The boxes have all been checked, the lines signed and any checks have been written. Chances are, you've spent long nights sweating over faded and crumpled receipts, missing documents and maybe even lost sleep over what you might owe. I know I've woken in the middle of the night wondering if I filled out the form correctly.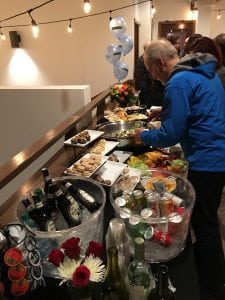 It's called tax-induced stress and it's something the two partners and seven staff members at Barene DenAdel in Aberdeen strive to relieve in all of their clients. Attending their special Champagne Celebration 3rd Thursday on April 19 is a perfect way to get to know the accountants and start getting ready for a stress-free 2018 tax season.
In January, the staff at Barene DenAdel decided to create 3rd Thursday Open House events. "We wanted a place for people to have fun and relax," says Erin DenAdel, a Certified Public Accountant and partner at Barene DenAdel, "but also learn something that they may not have known about before like an issue that has to do with business or taxes. There's always a topic we choose that people need to know about and this is a good way to do it. It's informal and fun, but with a bit of education."
Since fun is one of their goals, these free events are not a dry lecture hour. Instead, they are a social happy hour, where employees can meet with clients, business owners and other members of the Grays Harbor community catching up and sharing the latest on taxes or finance topics. Past 3rd Thursday topics include the newly passed tax cuts and jobs act and its effect on small businesses; cybersecurity and how to protect yourself and your business; and property taxes including a discussion by Grays Harbor County Assessor Dan Lindgren on a recently passed bill that will increase property taxes to fund education.
The April 19 event begins with champagne, sparkling cider and hors d'oeuvres from 4:30 p.m. – 5:30 p.m. During this time, you can speak with the accountants individually and get your questions answered. "During the open house part, we can talk one-on-one with people," explains DenAdel. "It's great when we can talk about one subject, but it's even better when our staff can have a casual conversation with you and answer your specific questions." DenAdel says that during the open houses, each accountant probably has anywhere from five to 10 individual conversations.
This is no surprise, considering they have had between 30 and 80 people at each open house, with many people returning each month. "People who we can hardly get into the office to sign their tax returns have come for the whole time. It's been really nice," shares DenAdel. For the staff, it's a wonderful opportunity to get to know their clients and community better.
At 5:30 p.m. there will be a talk briefly about the commonly missed deductions the staff noted during this past tax season giving attendees the heads up on what to watch for next year. "Each person has one thing that they saw a lot of during tax season so we will share what we saw – what people missed, what people need to look for next year, how to save more money and pay less taxes," explains DenAdel.
The evening ends with the raffling off of the door prizes at 6:00 p.m.
A Passion for the Small Business Owner
Barene DenAdel accountants work with both businesses and individuals to ease their bookkeeping and tax stress. "We really want to be a resource for small businesses," says DenAdel. "For example, last year we held technology for small business seminars where we invited people in groups of 10 and went over useful technology." She adds that small businesses, especially, seem to get bombarded with information from every direction, with companies telling them to use this or use that. "Anything we do, we've already gone through and figured out what the best thing is to use. So as a small business owner, you don't have to wonder if this is the one to choose. We want to help by sharing our knowledge on the things we've tried and what works and doesn't work. We want to make it as easy as possible and not have things overcomplicated or overwhelming."
The open house events and seminars are just one way Barene DenAdel fulfil their core values – impact, innovation, excellence and freedom.  "We believe that making a positive impact on small businesses in our community is the greatest way we facilitate growth of our economy," explains DenAdel. "We make an impact on small businesses through innovation.  We're innovative with our technology and we're always creatively thinking outside the box for impactful solutions for our clients.  We strive for excellence with the great products we offer and relationship based client interaction.  Combining these 3 ingredients gives our clients freedom.  We work closely with our clients to minimize accounting and tax frustrations so they're free to focus on what they do best – managing their business."
The Barene DenAdel 3rd Thursday in May will discuss banking relationships. Business bankers from Bank of the Pacific and Timberland Bank will be speaking. You can find out more about this and other upcoming events by visiting the Barene DenAdel Facebook page.
Barene DenAdel
110 W Market St, Ste 204, Aberdeen
360-533-1153
info@barenecpa.com
Monday – Friday: 8:30 a.m. – 5:00 p.m.
Sponsored