Aberdeen High School's Bryan Sidor moved a little too early in the 400 at last year's Class 2A state championships. And it cost him as he finished second by the slimmest of margins. Sidor stopped the clock in a speedy 50.28 seconds in 2017. Sedro-Woolley's Davis Mihelich, the race's winner, crossed the wire in 50.20.
Redemption finally came 12 months later.
Sidor, a senior, prevailed this time around in the event, posting a time of 49.16 to claim the 2A state title in the 400 during the 2A/3A/4A state track and field championships at Mount Tahoma High School on May 26.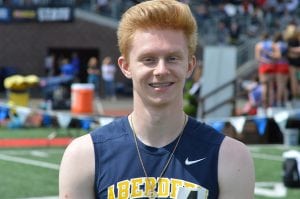 "Coming around the corner lane five (Ephrata's Anthony Evans) was still moving," Sidor said about the end of the race. "I just thought to myself, 'Ok, don't move too early. Don't make the same mistake as you did last year. Let them come ahead,' and I just gave it my all."
His all was worth gold as Sidor became the first Bobcat to win a state title in the 400.
Sidor's winning time was a personal record. Evans finished second (49.73) and Tumwater's Brad Blackburn got up for third (50.36).
"It was pretty difficult coming around that turn right there," Sidor said, pointing toward the final turn. "I really haven't ran against competition like that. (Evans) was coming strong. I had to kick it right at the right time."
Evans actually held a slight lead for much of the race, but Sidor was able to wear him down, eventually passing him with approximately 50 meters remaining in the race.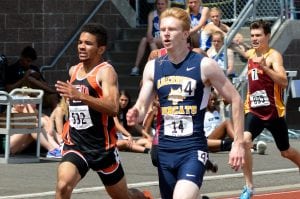 "I slowed down at the 150 mark. I kind of coasted," Sidor said, "but I knew I had to keep it going because everyone was coming. There was kind of a target on by back. I could feel it."
Sidor's winning time bettered his previous best of 49.27, which he set at the 2A District 4 championships. He ended his season winning his final 12 races at the distance.
"At the beginning of the year, I knew I had to buckle down," Sidor said. "It was a little more stressful this year. I started to figure out last week that all I needed to do was just run my race and I'll win."
Sidor would make two trips to the podium also finishing third in the 200 with a time of 22.11.
Sidor, however, wasn't the only Bobcat to put on a show in the 400 as senior Faith Cardenas finished second in the event in the girls' meet.
Cardenas finished the race in 58.17, barely missing giving Aberdeen victories in both the boys' and girls' state 400. Selah sophomore Olivia Martin took first, edging Cardenas with a time of 58.13.
1B/2B/1A State Track and Field Championship
Elma and Montesano both picked up four top 10 finishes, while Hoquiam had a pair of athletes accomplish the feat, at the Class 1A state meet at Eastern Washington University.
Eagles' sophomore Jalyn Sackrider finished sixth in the discus and eighth in the shot. Sackrider was joined by teammates Jillian Bieker, who finished fifth in the girls' 1A 110 hurdles, and Ben Bridge, who picked up a sixth-place finish in the boys' shot, as state placers.
Montesano had four members of its boys' team place at the 1A meet, getting a sixth from Sam Winter (triple jump), an eighth from Donovan Albert (400), a ninth from Tanner Nicklas (discus) and a tenth from Gage Iverson (pole vault).
Hoquiam also didn't leave Cheney empty handed, receiving a fifth from Antonio Garcia in the 110 hurdles and an eighth from Caleb Larsen in the shot put on the boys' side.
The North Beach boys continued their stranglehold on the 2B state shot put title after senior Ben Poplin became the fourth straight Hayak to pick up a state championship. Poplin, whose winning throw was 48 feet, joins Seth Bridge (2017), Jonny Law (2015), and his brother, Tim Poplin, who won the title in 2016, as state shot titlists.
Poplin also finished fourth in the discus with a throw of 134-07.
Ocosta had two of the top four finishers in the 2B boys' pole vault, getting a second place from junior Alex Bailey and a fourth from senior Brenden Chaney.
North Beach finished ninth overall in the girls' 2B team standings. Tawni Blankenship gave the Hayak girls their lone state title after winning the pole vault for a second consecutive year. North Beach also received a second place in the shot from senior Nastasha Fruh and a third in the 100 and fifth in the 200 from sophomore Lorin Cox.
Mary M. Knight junior Kaylee Sowle put on yet another dominating performance at the 1B girls state meet, winning four individual state titles.
Sowle won her third straight high jump title and defended both her long jump and triple jump crowns, while also adding her first state championship in the 100.  Sowle collected 40 points, powering the Owls to fifth place in the team standings.
Mary M. Knight also received a title on the 1B boys' side with senior Ian Frost claiming victory in the discus with a throw of 169 feet.