A sizeable audience enjoyed the Christmas opera Amahl and the Night Visitors at the Bishop's Center for Performing Arts in December 2017. The show was produced by the new Grays Harbor College Opera Workshop. Emma Dorsch, a

14-year-old Aberdeen High School student, gave an accomplished  performance in the role of Amahl, a young boy with a crippled leg and a lively imagination, who is miraculously healed when the three magi visit his home.
How did Emma land a lead role in an opera? She was uniquely qualified with a background in classical music, a beautiful soprano voice, as well as acting and singing experience. The original libretto for Amahl specifically asks for a boy soprano, the one requirement Emma did not fulfill. A wig and good acting took care of this minor problem. Emma had some connections, too.
The Grays Harbor Opera Workshop holds auditions for their productions. However, since the organization is still young and not very widely known, directors Ian and Joy Dorsch, Emma's parents, are actively recruiting cast members. Lacking a qualified boy soprano, they approached their daughter who graciously agreed to fill the role.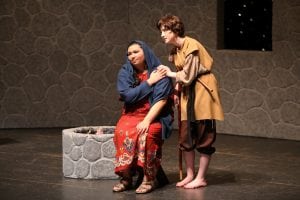 Accepting the role took a lot of courage and hard work. The role of Amahl contains a number of difficult recitative parts in duet with the boy's mother sung by Katya Lohngoen. The two singers spent many hours of extra rehearsal. (To see them in action, watch this video)
Grays Harbor College music instructors, Ian and Joy Dorsch, founded the opera workshop in fall 2016. Ian describes their goals: "We wanted to provide performing experience comparable to what young singers would get at a university-level music program, so GHC's transfer students can hit the ground running and be competitive with students who have already been in that environment for their first two years. This is pretty rare for a community college – as far as we're aware, there's only one other community college in the state, Shoreline Community College, that is doing something comparable. We also welcome singers from the community as long as they can carry a tune."
Until recently, the only opportunity to perform for voice students and other Grays Harbor singers were the Bishop Center musicals. "We wanted to create a workshop for people who are interested in classical music and for voices that are hard to fit into a musical production, singers with a bigger instrument," Joy explains. "Opera is more suitable for those who are not as interested in dancing. Age and body shape is also less important."
For multi-talented Emma, opera is only one of many music performance options. She and her 12-year-old brother Sam grew up with classical music all around them. Emma has been playing piano since third grade and violin since fifth grade. After playing in the McDermoth School Orchestra, she is now a member of the Aberdeen High School Orchestra and sings in the AHS Goldenaires. Her classical singing experience includes two years of voice lessons and Grays Harbor Music Teachers Association clinics. Emma also studies ballet at Turning Pointe Classical School of Dance and at Gayle Russell Dance.
Emma has performed in 7th Street Kids and in Bishop Center musicals. Some may remember her in her role as Jane Banks in Mary Poppins. Most recently she performed in Billy Elliot. "I really enjoy acting," she says. When asked about her preference, opera or musical, she tends toward the latter. However, she enjoys working with the opera cast: "There isn't any nonsense going on. You can tell that the people really want to be there." She also likes the integrated structure of the opera with the entire performance sung: "In a musical, the songs are strung together by the story," she says. "If there were no lines of talk, there would no point to the songs."
Opera is less accessible to the untrained ear than musical theater. It requires more work from both, the cast and the audience. The reward is profound and lasting musical enjoyment. Ian marvels that after many years of repeatedly listening to an opera, there is always more to be discovered.
A surprising number of Harborites have come to appreciate this classical form of musical theater, on the stage as well as in the audience. Most of the 18 to 20 workshop cast are young college students but some are retirement age. "We aim to be inclusive rather than elitist," says Ian. "We hold auditions, but they are very low-pressure."
Emma is currently rehearsing for the Opera Workshop's upcoming production, Mozart's The Impresario, June 23 and 24. Does she feel pressured fitting the opera workshop into her busy schedule? "No, we don't rehearse that often," she says. Her enthusiasm has inspired some friends to come along and explore opera for the first time in their lives.
Singers interested in participating in one of the two annual opera workshop performances will need to dedicate one evening per week to rehearsal for approximately three months followed by daily rehearsals in the week preceding the performance.
Contact Ian at ian.dorsch@ghc.edu. Visit the GHC Opera Workshop Facebook page for more information.