Fishing is pure joy for Ed Vickers, a happy return customer of the F/V Freedom. Vickers owns and operates the tax firm A-Taxes, LLC. He also started, "the best community fish fry in Clark County."

Each year, Ed takes a well-earned break after tax season. He packs, hooks up the fifth wheel trailer, loads his freezer and drives northwest from his home in Vancouver, Washington, settling in at the American Sunset RV and Tent Resort in Westport. This dedicated fisherman rises early, puts his gear on and heads to the marina. At Float 8, he steps aboard greets the crew, and settles in for a ride out to the fishing area.
Ed's goal is always to catch enough fish to support his annual fish fry. Along the way, he makes new friends. "He enjoys meeting everyone every day," says Jennifer Custer, co-owner of the F/V Freedom. "I bet he makes friends wherever he goes. Some of our customers ask if Ed will be fishing that day when they book their trip."
Ed comes back every year. "Chuck and Jennifer are incredible, and that's why I come here, Chuck works hard," he says, "if it's one of those days that the fish don't bite, he keeps looking."
Sharing and Giving
When Ed was a kid in Headland, Alabama, his parents were sharecroppers. He fondly remembers how the family would fish on Saturdays. "This was back when farming was becoming more mechanized and we still picked some crops like cotton and peanuts by hand," he describes. "The cotton flower opens up and it has really sharp points, and when you reach in to get the cotton the points get under your fingernail." It was tough work and relief came on Saturdays when his parents would take their nine kids fishing for panfish like perch, crappie, bluegill and catfish. People would see the smoke rising and they would stop by.
"You've heard the phrase, the more you give the more you receive," he says. "Sharing is something that my mom and dad taught us. They believed in sharing and giving."
Coming of age during a time of racial tensions spurred Ed's drive to get out of Alabama. In high school, he was an all-American basketball player. He left his hometown and spent his freshman year of college at North Carolina A&T State University. His coach left North Carolina to start a new job at Liberty University. After some encouragement from his mom, Ed decided to follow and give Liberty a try. At that time, the university didn't even have a gym, let alone much of an actual campus. During Ed's senior year at Liberty, his team won the National Christian College Athletic Association national title. In 2016, Ed was inducted into Liberty University's Hall of Fame. "Now Liberty University has over 100,000 students online," he exclaimed, "and they are building new dorms, so they can hold up to 19,000 students on campus."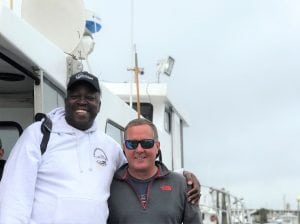 For 17 years, Ed managed restaurants. That's how he got his first tax customers – by helping his co-workers do their taxes. "I did their taxes, and then their friends' and families' taxes," he shared. "It's just word of mouth, that's how I get my clients." After he opened his own business, his 50 clients grew to over 700.
It's no wonder that Ed's fish fry is also a success. What started out as a backyard fish fry for a few friends, turned to about 70 one year. That's when he and wife Karen knew it was time to move to a larger venue. They've been hosting the event for 14 years at Heritage Church at 8803 NE 76th Street in Vancouver.
This summer, on Sunday, July 1, Ed's going to donate all the fish for the annual fish fry. Stop by.
"We put up a big tent. I have two deep fryers, a flat top grill and a smoker. I deep fry halibut, lingcod and sea bass." Ed grins and continues, "I marinate salmon and tuna, put them on the grill and smoke ribs at the same time." He does prefer to catch, process and prepares the fish himself. "I put my fish in a vinegar and saltwater bath, vacuum pack them and put them in the freezer every day after I get back from the trip because you can't put them on ice for three weeks."