Upon entering the Carr home in Oakville, it's hard to miss the collection of ribbons and trophies that have overtaken a shelf in the dining area. Logan Carr, 17, and Tiani Carr, 14, proudly earned these from several exhibits at the annual Grays Harbor County Fair through their involvements in 4-H.

For more than 10 years, Cheri Carr and her two children that she homeschools have been actively participating in the Grays Harbor County 4-H club programs, where Logan and Tiani have learned everything from leadership skills to new ways to express their creativity.
"I think it's helped them with their leadership skills," Cheri says. "When they're showing animals, they have to show in front of the public and then they have to answer questions from the judge. I think that's been huge in giving them some leadership skills. With Logan being a camp counselor, that's definitely helped him with leadership as well."
Every summer, Logan is a camp counselor at the Panhandle Lake 4-H Camp in Shelton where he's been making memories and learning new skills during his upbringing. Although he enjoys being a counselor and that is his main 4-H focus, he likes exhibiting cavies at the county fair, too. This year he'll be showing cavy, Oreo, who will be in the chicken and rabbit barn at the fair on Wednesday. He has fun with the whole experience around showing cavies.
"I study ahead of time," Logan says, adding that showing at the fair is his favorite part. "I just really enjoy it."
The Carr family's main club is 4-H Factory with 30 members who meet monthly and cover an array of interests (just no equine). There is usually a craft involved at the meetings and also opportunities to make posters, presentations, and how to fill out entry forms for the fair. Tiani is currently the secretary for 4-H Factory and has many interests that tie into 4-H.
"My favorite part about 4-H would probably be the fair and camp because I get to make new friends and learn new things," Tiani says.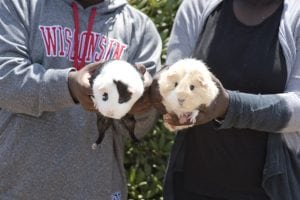 Each year, the Carr family does a bake sale that provides the funds for them to go to camp. So far, they have made enough to attend each year.
One of the new things for Tiani this year is entering her nine-month-old puppy, Budii, into the fair. Budii, a sweet, spirited, and energetic Pomeranian-poodle mix, was born blind.
"He has microphthalmia," Tiani says, which causes vision impairment or blindness in dogs.
"It's a rare birth defect," Cheri adds.
What's even more special about Budii is the care and spelling that went into his name.
"He will never have two eyes, so I gave him two," Tiani says, smiling.
Tiani is also a part of the 4-H Klassy K-9's club with other young members where she takes Budii to train once a week in preparation for his obedience and agility events at the fair.
"He's been doing good so far," Tiani says. "At first he had trouble with sitting and listening because it was hard at first, but he's gotten better."
Cheri says that training Budii has been a new experience for them since everything is done by verbal commands, whereas other dogs often recognize hand gestures that help them to know what to do. To see Tiani and Budii in person, be sure to visit the dog and cat barn during the fair on Wednesday or Thursday.
Tiani has also shown their cats, Ebony and Nala, and her cavies, Dina and Rosie, at the fair before, too. Although Tiani has a clear love for animals, her interests span much farther.
She enjoys photography, sewing, other crafts, baking, dried goods, canning, gardening, and more. She is also interested in one day exhibiting goats and horses, too. Outside of showing animals as a favorite event, she has found she has a passion for photography and has been displaying her work at the fair for the last four years.
"I like getting to capture something that you usually don't see every day," Tiani says.
To see Tiani's still life entries, be sure to stop by the pavilion during the fair where they will be on display all week long.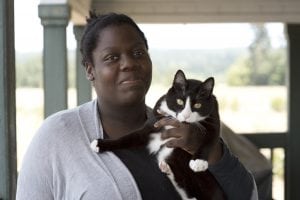 Cheri says that having her children participate in 4-H has had a lot of benefits.
"I just like that they're involved in the community," Cheri says. "You know, they get to meet so many new friends that they wouldn't have met not being involved."
Outside of 4-H, the Carr family is a giving one and Logan and Tiani also go on regular mission trips. Tiani has a weeklong mission trip this month in Eastern Washington where she helps in a sports camp that also participates in local community outreach.
For more details on the fair, including hours, pricing, carnival ride information and more, visit the Grays Harbor County Fairgrounds website.