Grays Harbor is synonymous with outdoor recreation. The region offers a huge array of natural adventures ranging from fishing and hunting to surfing and mountain biking. Hiking is another outdoor activity that is popular in the area. With hundreds of miles of world-class trails located in the county, hiking is an activity that is deeply rooted in the regional culture.

When Connie DeCristofaro moved with her family to Grays Harbor last fall, access to outdoor recreation was an important deciding factor in finding a place to call home. As a mother of two young children, Connie is passionate about exploring nature as a family.
Shortly after moving to the area, she searched for a local hiking group for families with young children. As a New Year's resolution, Connie planned to hike with her family at least once per month for 2018. "I saw this as an opportunity to explore our new home and create connections with like-minded families," she says.
Through social media, she found out about Hike it Baby, a nonprofit launched in 2013 in Portland with the mission of getting young children outside with their families, friends, and caregivers. Founder Shanti Hodges started a casual hiking group when she noticed that everyone in her new mom group was inside on a sunny day. She found that getting outside and connecting with other families with young children had a profound effect on her mental and physical wellbeing. The group has since spread beyond Portland, growing to more than 300 branches worldwide.
After learning more about Hike it Baby, Connie discovered that the nearest branch was in Olympia. "We moved to an area with plenty of trails, but seemed to lack an organized hiking community for families. Driving all the way to Olympia seemed silly. I wanted to build a local group for Grays Harbor that is our own," Connie says. After giving it some thought and inquiring more, Connie was awarded a scholarship to become a branch ambassador for a new branch, Hike it Baby Grays Harbor County, WA.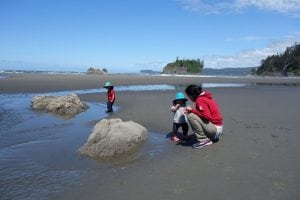 Since forming the group in January, Connie has hosted numerous local hikes and park and plays. Local destinations have included Lake Swano, Stewart Memorial Park, Sam Benn Park, Elton Bennett Park, Makarenko Park, Sandpiper Trail, and Lake Sylvia.
"I learned about Stewart Memorial Park from another member. It quickly became one of our favorite parks. My kids love the playground and easy access to a short, fun trail," she says. In addition, the group has explored beyond the harbor in the Olympic National Forest. The group has visited numerous trails along the Lake Quinault south shore, a portion of the Colonel Bob Trail, and the Maple Glade and Kestner Homestead trails. With Grays Harbor's proximity to the Olympic National Park, the group has plans to explore some of the many other trails located in the Olympic Peninsula.
The majority of hikes are "toddler-paced," where the youngest hikers set the course. "We often stop many times for snacks, water, puddle splashing, slug poking, nature gazing, and the occasional pep talk," explains Connie. Some kids are able to walk the trail while other families opt for carriers. No matter how you hike, "No family is left behind" is one of Hike it Baby's core values. Other core values include building a strong community, being free of judgment, raising a generation that will love the outdoors, respecting nature, and inspiring wellness.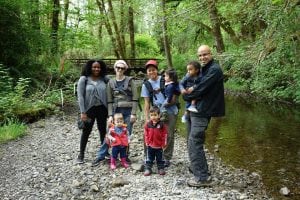 Connie is aiming to grow the group, explore more trails, and share this experience with the community. Members of Hike it Baby have access to thousands of hikes every month, so no matter where you visit or move to, this network of like-minded families is available. Through the group, any member can host their own hikes, while branch ambassadors host consistently.
How to Get Involved
To join the group, you can visit the Hike it Baby website to create a profile and sign the waiver. Hike it Baby is a hike-at-your-own-risk group. Every time you log in, you sign the waiver. Members can also connect on the Hike it Baby Grays Harbor County, WA Facebook group, where Connie posts hike reminders and shares pictures from hikes. "The Facebook group is also used for hiking-related chatter and getting to know other members," Connie says. Members are encouraged to post their own hikes to the Hike it Baby calendar on the website.