Only two high schools have made the Class 1A state football playoffs every single season over the past 12 years. One is three-time defending champion Royal. The other is Montesano.

Shaydon Farmer and Teegan Zillyet have been in attendance for most of the Bulldogs' games over the last decade or so – the last three as players.
Before that, they could be found in the stands, cheering on the team as they dreamed about one day putting on the Montesano jersey and taking the field themselves.
"I can remember coming out and watching Austin Baker and those guys rout teams by 70 (points)," Farmer said. "We wouldn't miss a game growing up."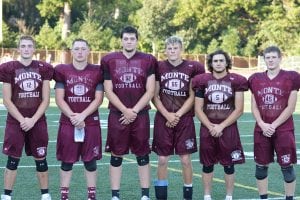 The duo would later be joined by Kai Olson, who moved to Montesano in sixth grade. The three have played together ever since – living and breathing Bulldogs' football.
Surprisingly, despite the program's abundance of success, that trio represents the entire list of senior players on this year's roster with any varsity experience.
"It's just been the three of us since I can remember," said Farmer, who will start at quarterback and linebacker for Montesano this season. "We've had injuries to players and other kids just deciding not to turn out. We do have a couple other new seniors on the team this year. We have an exchange student from Germany, one player who just moved here, and one who hasn't played football since junior high."
"Were just happy they're turning out," added Zillyet, who was a first-team all-league running back and corner back in 2017. "We're used to having no one play in our class. So this helps."
The Bulldogs have simply run roughshod through the 1A Evergreen League the previous two seasons, going a perfect 8-0 and outscoring opponents a combined 371-53. During that span, Montesano has surpassed the 44-point mark six times, while never surrendering more than 14 points in a single contest.
It's been pure domination to say the least.
The lion's share of last year's starters have since graduated. It featured a senior class that swept the 1A Evergreen League's MVP awards last season with Carson Klinger being named the league's most valuable player, Trevor Ridgway earning offensive MVP, and Jared Wallace taking home defensive MVP honors.
One league award recipient from 2017 that does return, however, is the Bulldogs' coaching staff. Head coach Terry Jensen and his assistants earned the league's honor as top coaching staff last year after guiding the squad to an 11-1 record.
Another valuable aspect that will be back, according to the players?
"Tradition," answered Olson, who will be a two-way starter on the line. "It's a little bit harder when you have such a small senior class, but tradition stays the same."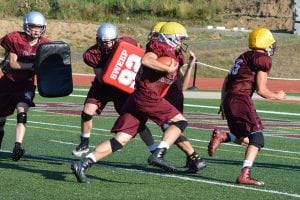 And one of the biggest traditions every year with the Bulldogs is players stepping up seemingly out of nowhere. Olson has already seen signs of that this year and only expects the trend to continue as the season goes on.
"I remember people saying last year how we lost a bunch of players and we weren't going to be as good, and we had success," junior Sam Winter said. "The juniors and sophomores are going to have to step up this season. We have a lot of players who don't know what varsity football is like yet, but they will step up."
Winter is a prime example of such a case, becoming a starter as a sophomore last season and proceeding to earn first-team all-league honors as a defensive back.
"We have a lot of pride here. When people think of Monte, they think of football," Winter said. "We represent the town and have such huge community support, and because of that when we're under the lights, everyone is trying to do the best they can for them."
Winter, along with Farmer, Olson, and Zillyet, are members of the Bulldogs' unity council this year. The group, which also includes juniors Tanner Nicklas and Brent Hollatz, is selected by the coaches and players in the spring, and are there to hold the team accountable and help continue all the traditions the program has established over the years.
"We need to be the leaders on the team. We need to be the role models," said Nicklas, a two-year starter on the line who also served on the unity council last year. "If anyone needs help on the field, that's what we are there for."
"We want to keep the team running and keep the tradition going," Hollatz said. "Football is the biggest thing in this city. We want to play for the team, play for fans. (The unity council's job) is to bring out the best in everyone."
Something that has been a common occurrence over the years with the program.