It's usually somewhat difficult to track someone down at the state high school swimming and diving championships with all the hectic activity going on.

Aberdeen High School head coach Jan Simons and her coaching staff, however, made it a little easier to spot them this year by wearing baseball caps covered in golden glitter.
"We thought these would be perfect for the team," Simons said about the eye-catching headgear. "We thought these would be fitting."
And fitting they were as the Bobcats claimed their fair share of gold at the Class 2A state meet at the King County Aquatic Center in Federal Way on November 11.
Aberdeen capped their highly successfully season by getting individual state titles from junior Annika Eisele and sophomore Anna Weber to go with a state championship from their 200 medley relay team to finish fifth overall in the team standings.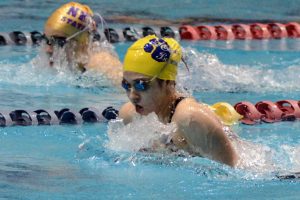 North Kitsap, which collected a meet-high five individual state titles, won the team championship with 277.5 points. Liberty of Issaquah was second with 230, followed by Sammamish (226), Sehome (178), and Aberdeen (175).
"It's such a deserving group of young people," Simons said about her team. "They are such a pleasure to work with. They care about their teammates. We always say, 'Rising tides lift all boats,' and they have all really bought into that thinking. It's been about the team around here and they've embraced that. This group knows they have an entire team of people working hard for each other."
The Bobcats, who also won the 2A Evergreen Conference and District IV championships this year, opened the state finals by winning the 200 medley relay in a spectacular time of 1 minute, 49.31 seconds.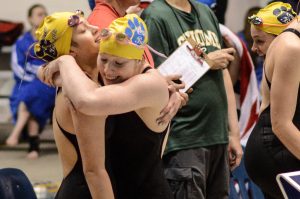 Comprised of junior Kayleia Sias, Weber, Eisele, and senior Katie Lewis, the Bobcats' 200 medley relay team posted the second fastest winning time ever the 2A state meet, trailing only Squalicum's 2015 record time of 1:48.52.
"It really is amazing what they were able to do," said Simons when asked about her team's ability to knock nearly 7 seconds off their seed time in the finals. "They are all wonderful girls. They have great attitudes and are hard workers. It's just a great feeling when good things happen to incredible kids."
The Bobcats entered the state championships as the fourth seed in the 200 medley relay with a time of 1:56.35. They posted the fastest preliminary time of 1:50.30 before trimming another full second off that time in the finals.
"It's been our goal forever to be state champs in this event," said Lewis, who was also a state participant in the 50 free. "Our old coach, Maggie May, had been a state champion in this event and we wanted to join her. The team is amazing. Team is easily the most important part for us and that's why our relays are always so good."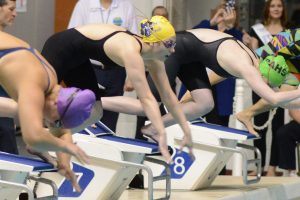 Weber followed up her triumph in the 200 medley relay by successfully defending her 100 breaststroke state championship, winning the event in a time of 1:04.85 to once again flirt with breaking the meet record.
Weber won the event as a freshman in 1:04.40. Katie Kaestner of Anacortes holds the meet benchmark of 1:04.28, which she set in 2011.
Eisele picked up her individual state championship by edging Olympic's Chloe Partsch, who posted the top time in preliminaries. Eisele stopped the clock in a speedy 57.13. Partsch finished the event in 57.28.
Eisele also finished third in the 100 backstroke (59.85), while Sias was fourth in the event (1:00.49).
Weber, who also collected a sixth place finish in the 200 IM, Eisele and Lewis teamed up with junior Melissa May to register a second place in the 200 free relay. The Bobcats covered the distance in 1:43.05 – a 3 second improvement off the team's seeding time.
North Kitsap won the event in 1:40.50.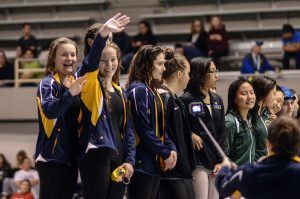 Aberdeen senior Marithess Lang placed 12th in the 1-meter diving with a score of 2:24.60.
The Bobcats closed out the meet with the team of freshman Kennedy Hatton, Sias, senior Camryn Cook and May finishing 12th in the 400 free medley relay.
Aberdeen's fifth-place finish gives the team three consecutive season of placing seventh or better at the state meet. The Bobcats also finished sixth last year and seventh in 2016.