Outdoor recreation out along the North Beach of Grays Harbor just keeps getting better and better, thanks to Buck Giles of Buck's Bikes in Seabrook. Over the past few years, Buck has been at the forefront of giving families residing and visiting the Grays Harbor Coast incredible outdoor recreation experiences. Whether it is the top-notch mountain bike trails, stunning tours on kayaks and stand-up paddle boards, or access to the fantastic rental equipment he has ready for you, Buck's Bikes has quickly become the go-to destination for anyone looking for outdoors fun. Now, thanks to the addition of one of the only skimboard pools on the Washington Coast, heading outside at Seabrook gets even more awesome.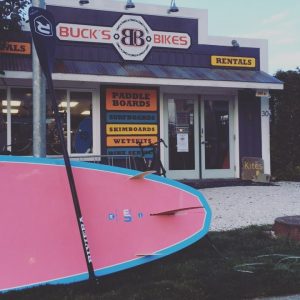 Opened in late summer of 2018, Buck's Bikes skimboard pool has become the perfect way to try out a new sport and to see if skimboarding is for you. For the past few years, Buck has been renting skimboards, but the average visitor has been hesitant to try it out, though it's a simple activity in theory. Originating in Southern California, when lifeguards wanted to surf the local shore in areas that were too fast and/or shallow for surfboards, the activitiy made its way up the coast to the cooler waters, finding a home at Seabrook. The most common way to use a skimboard is to toss it on a few inches of water, run to it and let the momentum carry you while balancing on the board. While some surf on their skimboards out on the smaller waves, the majority stick to shallow waters, making this a great activity for those who can't swim or don't want to battle breakers.
What makes this a great activity is that unlike some board-sports, it can be done at a relatively low cost. For about $180, you can have a new skimboard and never have to pay to use it on the beach. One cost and you are ready to rock.
New Pool Makes Introduction to Sport Easy
"We had a lot of people that haven't been introduced to skimboarding," Buck explains. "Visitors would come by the shop and were curious about skimboards, but were a little intimated to just jump in and try out a rental. The goal of the pool is to give a less intensive introduction to the sport in a controlled environment. The pool is also a great place to watch and learn, hopefully getting you stoked for a fun day of skim boarding."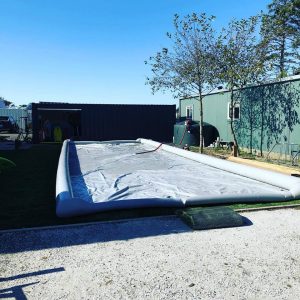 Now, thanks to the skimboard pool, everyone can quickly test out a board and see if the activity is for them. The pool also gives families a chance to try a new activity together, outside and away from screens. The pool at Buck's Bikes is quite remarkable, measuring 15 feet by 50 feet, giving a great run for all levels. The size lets two people skimboard at the same time and is big enough to help build up some good speed.
Eventually, the skimboard pool will be like a local skate park, with raised boxes and kickers to let more advanced boarders do some tricks. Right next to the shop, you can hang out, see others try it and maybe be convinced to give it a shot yourself. The pool is a great way to chill and relax in a fun environment. guaranteed to entertain both young and old.
"I have been skimboarding for a few years," Buck shares. "I love it because I don't have to submerge myself in the water. When I am walking with the family, I'll take the skimboard along at Pacific Beach, skim a bit, have the kids jump on it, and have an enjoyable time with the family."
"What I like about it is that it can be a group activity and anyone can try it," Buck continues. "I know lifelong skim boarders, 50-plus years take their kids and grandkids out and try it. Older dudes used to take plywood in circles at PB and hang out together and would explore the beaches all year, bonding while working on their board skills."
The skimboard pool at Buck's Bikes is open a little less than the shop hours, typically from 12:00 p.m. to around 4:00 p.m. Costing just $10 an hour, or $5 if you have your own board, the pool also serves as a good way to hone up your skills before heading down to the beach. A season long pass to the pool is just $125, while those who have their own board will have to pay just $60. Buck wants to bring skimboarding to the masses and the pool is ideal for getting people out and trying it.
Contacting the shop will give you the most up to date hours for the pool, the shop and rentals, ensuring that no matter what the season or weather, you'll be able to find the perfect outdoor activity along the coast at Seabrook. To see more images of everything Buck Giles of Buck's Bikes is up to, check out #MoreThanJustBikes on Instagram.
"There are so many activities possible along the coast, so come out and enjoy," Buck beams. "The area is still growing, so stay tuned. We are very excited for the future and are happy to share this and many other experiences Buck's Bikes will be providing to get people out and doing more in the North Coast of Grays Harbor."
Buck's Bikes
30 Front St., Pacific Beach
Seabrook Shop: 360.986.0325
Mobile Repair: 360.580.5808
Sponsored