At 28-years-old, Larissa Rohr has shown that not only is she a go-getter, but that she has a passion for helping others. Rohr is a paramedic and firefighter at the Hoquiam Fire Department (HFD) and has recently been promoted to Captain Paramedic, making her the first female in the department's 100-year history and also the youngest to receive the position.

"I am where I am today because of my parents and my family, as well as my friends," Rohr says. "Regarding this promotion, it could not have been accomplished without the support and principles taught at the Hoquiam Fire Department. It's an amazing group of people."
Originally from Willapa Valley, Rohr has been a paramedic for six years and volunteered at the Raymond Fire Department before testing for and accepting a position at HFD. For Rohr, there was always an underlying interest in this career path and she was able to gain experience from a young age.
"I started my senior year of high school where I did diversified occupations," Rohr says. "And I was able to go to the Raymond Fire Department every other school day and learn the job. That's when I first got into it."
There were several factors that lead to Rohr into entering her field, but a special one is to honor her brother who passed away before she was born. When her older brother was 12-years-old, he sadly ended up passing away shortly after he collapsed during a routine jog in P.E. at school and later suffered cardiac arrest where they were unable to revive him. It was found that he had a heart defect commonly referred to as Athlete's Heart.
"I never actually met my brother, Matt, but hearing that story growing up and living in a household where a child has been lost, I knew this was the career field I wanted to choose," Rohr says. "So that I can be that person, that on someone's worst day to hopefully make a positive impact."
Rohr obtained a bachelor's degree in science and paramedicine from Central Washington University in 2012 and has long-term plans to continue serving at the HFD. A goal of HFD's is to increase fire safety awareness with an emphasis on teaching children and Rohr will work to help achieve that.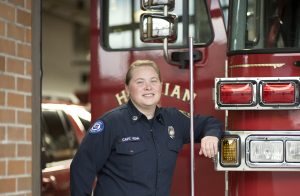 "In my new role as a leader at the department, I'm going to maintain our high standards of the public education and public relations and providing quality services to the citizens of Hoquiam and its outlying districts," Rohr says.
There are countless life changing moments when it comes to working for a fire department, but some calls will always stick with the first responders. For Rohr, one moment was three years ago when she was able to help save a newborn boy's life.
"My most memorable story to date would be helping a four-hour-old baby that was in critical condition," Rohr says. "Getting him safely to the hospital for advanced care and being able to stay in contact with the family and get pictures with him every year on his birthday."
Though the nature of the job is serious, there are fun times, too. Rohr says that spending so much time with co-workers while working in a fire department means that everyone feels like family and that results in some humorous memories.
"We definitely have funny times," Rohr says. "When there was a Krispy Kreme fundraiser going on in town and multiple community members brought Krispy Kremes to the fire station, I decided it would be a good idea to make ice cream sandwiches out of them and pretty much put everybody into a sugar coma who ate one."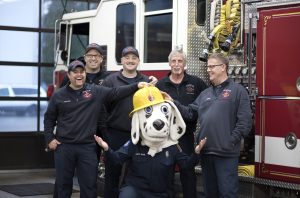 When Rohr isn't working, she likes to spend time hiking with friends and coaching girls basketball in Hoquiam as part of the coaching staff.
"I played college basketball, so it's something I'm very passionate about," Rohr says. "It's a very great group of girls over there at the school."
Another activity that Rohr participates in every March is the challenging Scott Firefighter Stairclimb fundraiser where about 2,000 firefighters from all over the world, including people from Aberdeen and Hoquiam each year, wear full bunker gear and SCBA and climb 1,356 steps to the Sky View Observatory in the Columbia Center in Seattle. The funds raised go toward supporting the Leukemia and Lymphoma Society.
Rohr looks forward to many more years at HFD as she serves alongside a team of devoted first responders throughout Grays Harbor. For more information and to keep up on current events and local happenings with the HFD, visit the Hoquiam Fire Department official Facebook page and give them a "like" to show community support.