On any given weekday, a visitor standing outside the doors of the Wound Healing Center at Grays Harbor Community Hospital might hear the sound of a bell clanging joyously. This is the "healing bell," and patients ring it to celebrate the successful completion of weeks, perhaps months, of healing treatments.
Patients come to the center broken, in pain, sometimes frightened or embarrassed. The patient might be a burn victim or a diabetic with a foot ulcer. Untreated wounds send infection deep into the bone, and cancer patients may suffer from painful radiation injuries.
Regardless of the injury, patients meet with compassion and hope from the very first visit.
"Some of these people have been walking around with wounds for two or three years," explains Joanie Sampson, one of the wound nurses at the center.
"They may be too embarrassed to even tell their doctor about their wound," adds Chris Chapin, a certified wound nurse. "I think they are shocked and relieved when we aren't grossed out. We just move right on, and they aren't ashamed of it anymore."
Since opening its doors in 2009, the Wound Healing Center has provided advanced wound care for thousands of patients. And with the help of specialized therapies, most patients will be ringing the healing bell within 14 weeks.
The First Visit
The first appointment takes about two hours. During that initial visit, the patient is given a thorough assessment and assigned a nurse case manager. "That first visit is exciting," explains Chapin. "There is a reason why this wound isn't healing. As soon as we figure out the why, we can fix the problem."
Identifying the underlying problem is essential to determining a care plan. That plan typically involves a variety of approaches, and the case manager coordinates with other departments within the hospital, such as orthopedics or vascular, or even with resources in the community.
"It's like pieces in a pie," explains Sampson. "The first nurse identifies what pieces of a patient's pie are missing. And then the doctor and case manager figure out what it's going to take to put those pieces back in place."
The doctors at the wound center come from a variety of specialties, from podiatry to surgery, internal medicine and anesthesiology. They regularly consult together and with the wound nurses to determine the best course of action for a patient.
Customized Treatments
For most treatments, patients will return at least once a week for several weeks. The clinic offers a variety of treatment options, from biologic dressings to hyperbaric oxygen therapy, negative wound pressure therapy and even sterilized medical maggots ("the smallest surgeons you will ever meet"). Each treatment has its advantages.
Biologic dressings, for example, are particularly useful in treating burns and other open wounds. These bioengineered tissue substitutes do much more than simply close a wound. They also promote healing at an amazing rate. Similarly, negative wound pressure therapy (or wound vacs) maintains a moist healing environment while pulling drainage out of the wound and promoting granulation of tissue.
"We see about a 50 percent greater wound healing with wound vacs than with traditional treatments," says Chapin. The other therapies available also produce stunning results.
Hyperbaric Oxygen (HBO) Therapy
One treatment option involves hyperbaric chambers. HBO therapy has proved particularly useful in treating bone infections and radiation injuries. Patients return every weekday for 40 to 60 treatments. During each treatment, they lie in a clear acrylic chamber, breathing 100 percent oxygen. This allows wounds to get oxygenated, while rebuilding capillaries and killing bacteria that cause infection.
"Patients who have had radiation to their throats come in, barely able to whisper," explains Sampson. "Within a few treatments, they are starting to talk and swallow again, because it softens all that tissue."
Quite simply, says Chapin, "it changes their life."
Diabetes Care
A majority of the patients who come into the wound center suffer from complications of diabetes. Nationwide, diabetes affects nearly ten percent of the population and 26 percent of Americans over the age of 65. Chronic wounds such as foot ulcers are common among diabetes patients, and patients with diabetes are 10 times more likely to require amputation. The wound center aims to decrease that probability.
"With the lack of diabetes care in the Harbor, diabetes cases are a huge amount of our patient volume," says Sampson. "In addition to treating their wounds, we also refer them to get the best care for their diabetes."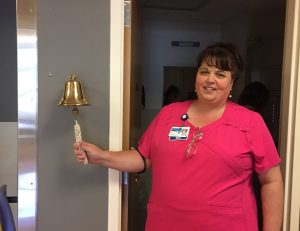 Start the Road to Healing
Don't let a persistent or traumatic wound continue to define your life. "We'll pull out all the stops to get your wounds to heal. Wounds are usually symptoms of a bigger problem, and we are here to fix problems," says Sampson.
Call the Wound Healing Center at 360.537.6300 to begin your road to health. Depending on your insurance, you may need a referral from your primary care provider.
Sponsored