Daniel Quinby doesn't exactly know where his brother located the wrestling singlets. He figures they were simply tucked away in some afterthought of a box, placed alongside the other discarded sports equipment, and mostly forgotten. Odds are the gear would still be there, unnoticed and collecting dust in a storage area near the gymnasium had his brother not stumbled on the cache a few years ago.

Quinby estimates the Ocosta High School singlets are well over 30 years old, first being used in the early to mid-1980s. Despite the added mileage, they show little wear and tear, the school's name proudly displayed across the chest, and while other current styles may be considered far more in fashion than this particular variety, to Quinby they're pure gold.
"My brother wore this one before me and passed it down after he graduated," Quinby said. "My dad remembers wearing them when he was in school. There's a lot of history in these singlets."
Few can appreciate that fact more than Quinby.
The senior's family tree has its roots planted firmly in Wildcats wrestling. His father, Steve, was a 1990 Ocosta graduate. His older brother, Sam, graduated from the school in 2017. Both wrestled for Ocosta.
These specific singlets are usually reserved for those wrestlers competing in a tournament final. On this day, however, Quinby was able to break out the retro look a tad early at the annual Sgt. Norton Memorial Tournament at Rainier High School.
A teammate had forgotten his singlet at home that day. Quinby, one of the Wildcats' captains, quickly offered up his singlet as a replacement. Part of the generosity was just Quinby's selfless desire to help out the program anyway possible. A teammate was in need. Quinby could help. Like always, he didn't think twice about offering up his services. Problem solved.
But that's not to say Quinby didn't benefit from the situation as well.
"It's always kind of cool when you get to put on the old school singlet," said Quinby, who is ranked sixth in the state among 132-pound wrestlers in the B classification. "My brother only found a couple of them. So it means a lot when I get a chance to wear it."
A three-time state participant, Quinby plans to add a little more history to the singlets before his Wildcat wrestling days are over as he hopes the last time he is seen wearing it is when he stands on the medal podium at the state tournament.
"To some it's a concept that they don't quite grasp," said Ocosta's head wrestling coach Kevin Goodrich when asked how much embracing the program's legacy means to his wrestlers, "but for a lot of them it's important. It's very important for someone like Daniel."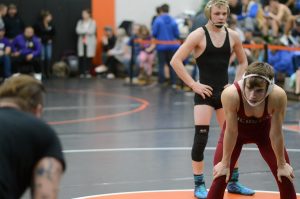 Goodrich, now in his 26th season with the Wildcats, can relate. He was a Wildcats wrestler as well and is far from the only alumni on the coaching staff.
"Both of my assistants are former wrestlers for me," Goodrich added. "The young lady (Britnee Parsons) I have coaching the girls is a former wrestler for me who took third at state for us in 2009. So we're getting kids who have been involved in the program come back and help out. I've always felt like for the size of our community we've done pretty well here."
Goodrich has seen an increase in turnout this season, going from 11 total wrestlers last year to 17 this season, including 10 boys and seven girls.
"The higher turnout this year is nice. It just gets everyone going," Quinby said. "There's a lot of kids in that room. The more people in there, the more people trying hard, the more it makes you want to work harder. It just keeps everyone going in a big cycle. Everyone rises up together."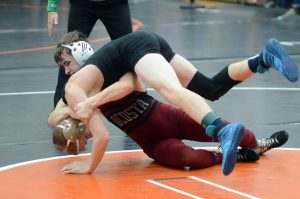 Quinby and fellow senior Tucker Deranleau, who finished fourth at the state tournament in the 220-pound weight classification last year, are Goodrich's two returning state wrestlers, and two athletes he has relied on heavily due to squad's young status.
Both seniors have more than embraced the role this year.
"We have a lot of younger kids on the team this year and part of my job and part of Tucker's job is we have a lot to teach them," Quinby said. "It's really cool to watch how they've improved, not just in wrestling, but actually as individuals. They're really stepping up now and just working as hard as they can every day. It's just really impressive to see someone put out that much effort and care so much about something."
The same can be said about Quinby, who in addition to placing at state has another top goal this year of doing as much as he can to help the program's future.
"He's a leader at school as well as in wrestling," Goodrich said. "Great kid. Great student. He's just the type of kid you want in your wrestling room."