Cars do more than transport us from point A to point B. They're where we spend a vital portion of our day—and our income—and make the American Dream a reality. But let's be honest, sometimes our daily workhorse just isn't all that attractive. If you dream about hotrods, convertibles, vintage chrome and leather, or classic muscle cars, head over to the seventh annual Cruise at the Creek car show at Little Creek Casino Resort.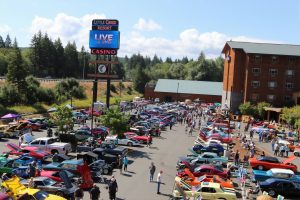 Car shows are much beloved institutions. The 2019 Detroit Auto Show had nearly 775,000 attendees this year alone. Shows are a perfect getaway for admiring, shopping and showing off your pampered four-wheeled baby. Whether you've got a car to flaunt or just like to daydream, head over to Little Creek Casino Resort for this free, family-friendly, all day event that's less than 30 minutes from downtown Olympia.
This year's Cruise at the Creek takes place on Saturday, July 20 from 10:00 a.m. until 4:00 p.m. Registration is still open for cars to participate and compete in the following categories: Home-built/restored, one of a kind, inspiration point, rat rod, street rod, Mopar muscle, Chevy muscle, classic Chevy, classy Camaros, Corvette, Ford muscle, classic Ford, Mustang, foreign, orphans, and motorcycle.
The event is free to attend but car show participation is $20 and pre-registration encouraged. More than 300 cars are expected, so arrive with plenty of time to primp, buff and polish. Registration starts at 7:00 a.m. and judging runs from 10:00 a.m. until 2:00 p.m. with the final trophy presentation at 3:00 p.m.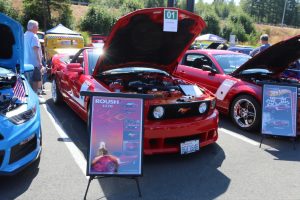 While that takes place, guests and registrants can wander the food and beer garden or mingle with celebrity guests Mark Worman and the cast of "Graveyard Carz." Described as a 'Mopar Guru,' Worman considers himself "as both a 'natural comedian' and 'the greatest Mopar restoration technician the world has ever known.' No hope for humbleness, Mark is loud, opinionated and the ultimate Mopar geek."
His TV show "Graveyard Carz," "is an automotive reality show focused on restoring Mopar Muscle Cars. Not only are the cars wrecked, they are beyond repair. To fix a Graveyard Car, it can't just be restored, it has to be resurrected."
But at Little Creek, the classic cars will be shining examples of the best and brightest, new and restored. Spanning decades of design and much loved by their owners, it's a timeline of our fascination with both two- and four-wheeled transportation.
Not a car fan yourself? Don't worry, Little Creek Casino Resort's got you covered. Tag along and enjoy free concerts from the Seattle School of Rock and Perfectly Petty, a Tom Petty tribute band. Shows run from 11:30 a.m. to 3:00 p.m. so bring your dancing shoes.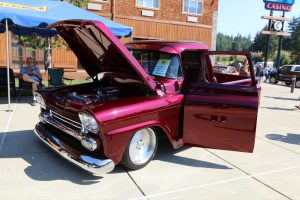 Turn the day into a relaxing weekend with one of their many resort packages. Stay and Play includes 18 holes of golf, Stay, Spa and Swing comes with golf and a massage, or the Romance Package with spa credit, sparkling wine, and a decadently late check-out time.
Want the amenities but prefer to sleep in your own bed at night? You can still request a tee time at the award-winning Salish Cliffs Golf Club or schedule any number of special treatments at the Seven Inlets Spa.
Before, during, or after the car show treat yourself to fine dining or a quick bite at one of Little Creek's amazing restaurants, cafes, and lounges. Seafood bar or buffet, cigars and wine or coffee and sandwiches, there's something for every taste, timeframe, and budget.
Players Club members earn points that can be used throughout the resort. Don't miss out on gaming promotions either, including plinko, cash cube and free cash Friday. Signing up is free and easy either on-site or online from the comforts of home. Members earn discounts on golf, spa visits, resort stays, and in the gift shop as well as free valet parking and exclusive pre-sale options on their many concerts and entertainment shows.
"A car designer is really a sculptor," said auto designer Chris Bangle. "Cars are the sculptures of our everyday lives." To those of us entranced by cars, a head-turning ride is like poetry and art come to life. Celebrate with your favorite gearheads, family, and friends with a leisurely Saturday Cruise to the Creek.
Sponsored