As a soon-to-be sophomore at Elma High School, 15-year-old Annie Burnett has endless activities that keep her busy and is constantly on the go. Between juggling homework and the everyday life of a teenager, Annie also makes time for her favorite hobby, 4-H.

For over 115 years, 4-H has welcomed young individuals from all beliefs and backgrounds to the program. The program gives a voice to children and teens to be able to express themselves while improving their lives and community that they live in.
Growing up in Elma has given Annie ample opportunity to immerse herself in the club. Beginning six years ago, she first found her place in the program by entering photos into the Grays Harbor County Fair and trying her hand at archery. As the years progressed, she discovered her love for horses. "I got my nine-year-old horse, Twix, three years ago," states Annie. "She's a Quarter Horse breed and has grown to be such an important part of my life."
With her own horse by her side, Annie has been able to enter into a huge variety of various shows throughout the state and take part in friendly competition.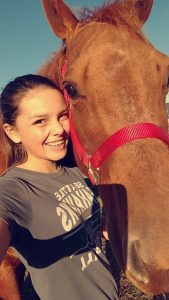 The specific club that Annie's a part of is the local Country Pride 4-H Club. Gathering once a month, this club gives its members a glimpse into parliamentary style of meetings. Once the 15-25 group members are in place, the meeting begins with opening statements, the Pledge of Allegiance and the 4-H Pledge. Next, the group reviews the minutes from the prior month's meeting, approves financial reports, as well as discusses upcoming events and fundraising opportunities. All of this is led by various officers including the club's president, vice president, senator, treasurer and historian.
From 2016 through 2018, Annie was proud to have held the title of president where she learned many invaluable leadership skills. "This program is a wonderful way to meet new friends, gain professional leadership skills and plan what each member is going to do and present at the fair," says Annie.
A huge part of the Country Pride 4-H Club is giving back to the community. One of Annie's most memorable community service projects took place last December. "In the spirit of the holidays," explains Annie, "we adopted a family in need and bought presents for them. It was really great to be able to help them out and give them a nice Christmas." Another way that the club gives back is by hosting an annual fundraiser, this year being an Elma city-wide garage sale. A portion of the funds that they earned go toward kids who may not be able to afford Grays Harbor County Fair parking passes, entrance fees or ride passes. Additionally, the money that the club members earned goes back into their community to fund various programs.
Another 4-H activity that Annie is a part of is the Grays Harbor 4-H Summer Camp Program at Panhandle Lake. After first attending as a camper, Annie was thrilled to jump on board and volunteer as a counselor. "This year," states Annie, "I was at camp from Saturday through the following Friday in mid-July before leaving a little early to participate in the Lewis County Rodeo. My summer is really busy, but being a camp counselor is a ton of fun. I loved being able to see my niece and nephew and work with them."
As for her future with 4-H, Annie is hopeful to continue refining her riding abilities. "This year I'm hopeful that I'll improve at my competitions," expresses Annie. "Last year, I made it to the Puyallup State Fair in both the performance and gaming categories. This year, I've moved up to the senior level where the competition is more fierce. I hope that at some point during the next few years to make it to state again in either category!"
"Overall, 4-H has been a great learning experience," says Annie. When asked what she would say to someone interested in getting involved with the program, Annie states, "If you want to do something at the fair, the 4-H program will give you all of the necessary information and guidance to get you started. You'll gain important people skills, independence and have a great head start into being a successful adult."
For additional information on this program, visit the 4-H website.
Annie hopes that you'll come on down to this year's Grays Harbor County Fair, visit the horse barns and have a fantastic time. This year's fair runs from August 7-11 at the Grays Harbor Fairgrounds. Follow the Grays Harbor County Fair's Facebook page for more information on opening times, events, competitions and more.