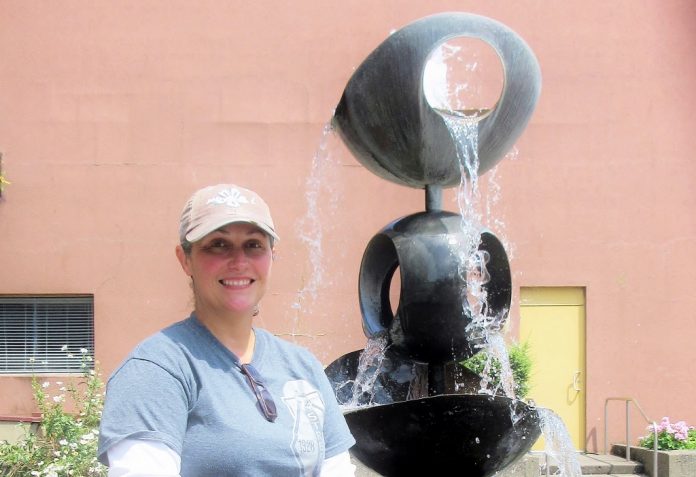 Each summer, two South Broadway city blocks in downtown Aberdeen are closed to motor vehicle traffic for a day to make space for artists' booths, food vendors and entertainers. The Aberdeen Art Walk invites artists to display their work and the public to stroll along this open air gallery while enjoying food, music and fun activities. Even folks who would never set a foot into an art gallery enjoy this informal outdoors art show. Now in its 21st year, the Aberdeen Art Walk has become a popular summer event with typically more than 100 artists and vendors.
Aberdeen has long been home to a vibrant community of artists. In 1998, a group of local art enthusiasts founded a nonprofit organization to celebrate the work of local artists and showcase it in the streets of Aberdeen's historic downtown area. The group staged the first Aberdeen Art Walk in July of 1998. Among the movers and shakers were Senior Sunset Times' Laura Malakoff and Clyde and Sylvia Brown of Frames N Things (now closed) along with many other volunteers. The organizational structure has undergone some changes throughout the years.
For the last two years, Aberdeen Art Walk has been running under the umbrella of ReHABerdeen, the organization responsible for the Founder's Day Parade. A group of volunteers including Aberdeen City Council President Tawni Andrews and Karen Rowe of Grays Harbor Wine Sellars are hard at work to make the 2019 Aberdeen Art Walk even better than in previous years.
Artists, crafters, musicians and vendors from all over Western Washington are encouraged to apply. "Artists and crafters are what this event is about," says Karen Rowe. "They participate for free. We are trying to get local businesses to host artists by displaying their work inside their buildings."
The organizers are playing with many new ideas. Rowe is excited about an interactive community art project. There will be a large canvas to be decorated by art walkers with paint-filled balloons. The Sherwin Williams Co. Paint Store will donate the paint needed to create Aberdeen's very own Jackson Pollock-style canvas. Like last year, there will be kids' projects where participants will be able to create a craft item for a small fee. Think tie-dye t-shirts or similar small projects for children and adults to take home. The 2018 Kid's Corner Tile Painting activity was a great success.
This year's art walking will be extended to include public art in the City of Aberdeen. The community organization Our Aberdeen has created beautiful brochures with self guided tours to the city's many murals and sculptures. These booklets have been available for free to the community at several public locations for years. This year, the Art Walk will promote these tours. There will a table with maps to encourage visitors to explore. Buildings housing indoor murals will be open for the day. Youth murals decorating the once drab walls of Art Alley can be admired right on site. The alley leads from the D&R Theatre on South I Street right into the heart of the Art Walk on South Broadway.
Entertainment will include live music and an appearance of the local dance troupe Kaleidoscope Belly Dance who has performed in previous years. The Aberdeen Timberland Regional Library is going to have staff on-site. There will be a table with free art activities for kids on this day which is also the finale of the 2019 of the Timberland Library Summer Learning Program. It is just a short walk over to the library on 121 East Market Street where kids of all ages can enjoy activities from 1:00 p.m. to 3:00 p.m.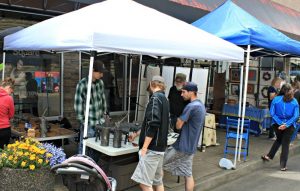 Karen Rowe hopes to have Douglas Orr and the Aberdeen Art Center involved as in previous years. His beautiful Alder Grove Gallery is located only a short walk away on 200 West Market Street.
The Aberdeen Art Walk has become a true community building event. Artists love this free of charge opportunity to display and sell their work, to interact with visitors and give out business cards. Many have reported follow up contacts and repeat sales in previous years. Entertainers love the opportunity to perform. Vendors love the milling crowds and local businesses love the extra traffic. Community groups enjoy collaborating with Art Walk.
Lots of art, lots of walking, lots of Aberdeen – the 2019 Aberdeen Art Walk has it all.
The 21st Aberdeen Art Walk is going to take place on August 24, 2019, from 10:00 a.m. to 4:00 p.m. on South Broadway, Aberdeen. Artists of all media, crafters, vendors and musicians may still apply until August 17, 2019. Visit aberdeenartwalk.org to download an application form and the Aberdeen Art Walk Facebook page for more information. Call Karen Rowe at 360-581-9363. Volunteers fifteen and up are welcome to help with set up, take down and other event chores.