The holidays are coming, that's inevitable. But what's not set-in-stone is the number of items we have to purchase for them. For many families, the holidays are filled with thankful togetherness and sharing special meals together. But if you are the host house, it can also mean having to spend money to prepare for your guests. Everyone needs a seat around the table, Grandma will notice the stains in your old linens, and you are fairly certain your flatware is missing a few pieces. Purchasing all these items can really eat into your holiday budget. Instead, why not focus on the important part, the meal, and leave the rest to Celebrations, "The Party Store."
According to the Los Angeles Times, there are 300,000 items in the average American home. Let's sit with that for a minute – that's if we can find a place amongst all our stuff. 300,000 items?
Where do we put it all? The New York Times Magazine reports that 1 out of every 10 Americans rents off-site storage, which is the fastest-growing segment of the commercial real estate industry, even though the average size of the American home has nearly tripled over the past 50 years.
All of the time spent buying items, schlepping them around, losing and then finding them, storing them – it all adds up. What doesn't add up is why we do this when we don't have to. In this modern world we live in, we are fortunate to have conveniences like event rental centers, so we don't have to purchase those extra forks, chairs, or that chocolate fountain that seemed like a good idea at the time, but is now relegated to the attic. We can make our events great, and still save time, space, and ultimately the environment, when we opt to rent instead of buy.
Focus on the Experience
Let's talk about Christmas. In 2016, American consumers spent one trillion dollars over the holiday season. The data is staggering, all things considered. In a world where technology is king and face-to-face interactions are growing rarer, a renewed focus on the experience itself can reinvigorate the family meal and the entire holiday season. If only we bought a few fewer things, that would easily cover the cost of setting an elevated holiday table. In a world of planned obsolesce, where things break easily and then "go away," we can instead spend our money on things that will last, like the smiles that a beautiful holiday feast can bring.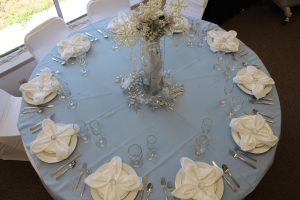 Just as gift giving can be an act of love, so is setting the table. At Celebrations, they have everything needed to set any table, but especially a holiday one. Store Manager, Dave Light, has been in the event rental industry for nearly two decades and he knows just what it takes to create a beautiful tablescape.
Dave's Favorites:
Holiday Meals: The "Stuff" Memories are Made Of
When we bring our focus back to the holiday meal and focus more on the experience, it shines a new light on what really makes the holidays twinkle. Holiday rentals create an elegant table without breaking the budget.
All it takes is a vision and a rental reservation – and the Celebrations Party and Event Rental experts can take care of the rest. Most have an idea of what they'd like their table to look like, but, if a little extra inspiration is needed, visit the Celebrations' showroom in Lacey to see their many examples and to chat with their decor professionals, or take a look at the Celebrations website. Item reservations may be made online, and for an additional fee, your rental items can be delivered right to your home or event space. You can also follow them on the Celebrations Facebook page.
Celebrations, "The Party Store"
4614 Lacey Boulevard SE, Lacey
360-754-RENT (7368)
Sponsored