In October, life can feel a little loopy. We're barely back into the school day routine but don't have the holiday season rush to keep us focused. Weather slides from late summer glory to damp socks and noticeably shorter days. But thanks to Little Creek Casino Resort, you can embrace this topsy-turvy month with parties, contests, music, food and fun.
October's name comes from the Latin 'octo' which, as you might suspect, means eight. But it was shoved to the back of the line when January and February were added to the calendar in 153 B.C.E.  Its primary birthstone is the opal "and it is said that the opal will crack if worn by someone who is not born in October."
But before you crack under the pressure of looming holidays, rainy weather, and workaday stress, head to Little Creek for the perfect escape. There will be slot tournaments on October 7 and 21, both starting at 7:00 p.m. With only a $40 buy-in, you could win cash and prizes galore.
Little Creek has more than 1,200 slot machines and 230 game titles. Voted the South Sound's Best Casino they "are constantly updating your gaming choices, so there is always something new to play." Players Club members can enjoy such promotions as a New Members swipe-and-win for up to $5,000, $24,000 Anniversary Cash Giveaway every Thursday afternoon, and double points every Tuesday.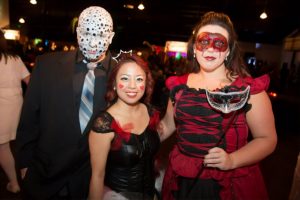 Join the Players Club online before you come or visit their friendly desk associates to enroll. Members receive free check cashing, birthday offers, pre-sale event tickets, valet parking and discounts resort-wide.
In between spins of the slot machine, get your tickets—while they're still available—for the much anticipated Halloween party on Saturday, October 26. Tickets are $20 with your Players Club card, if purchased at the box office, or $25 without. Held at the on-site Skookum Creek Event Center, it's a fan-favorite event that's not to be missed. Buy in that day or in advance and get ready to have lots of fun.
In 2018 alone, more than 175 million celebrated Halloween with 70 percent handing out candy to eager ghosts, goblins, fairies, unicorns and superheroes. CNN estimates that spending averaged $86.79 per consumer for this one magical night of the year.
But parties and fancy dress aren't just for kids anymore. Little Creek's party, which is for everyone 21+, is the site of an epic costume contest. $5,000 in prize money will be presented to guests in the categories of scariest, funniest, best couple or group, most creative, and best overall. Promotions Coordinator Jennifer Brines expects 500 attendees to enjoy an array of spookily-themed food and drink stations while a DJ spins tunes all night long.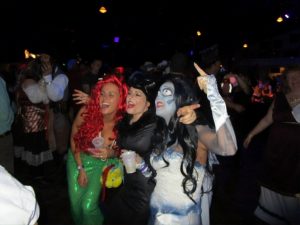 Afterwards, don't risk driving home! Book a resort package and pamper yourself. Stay and Relax (promo code RELAX) includes a half-price facial, massage, manicure, or pedicure, spa access, and resort accommodation. Stay and Play (code GOLF) includes golf, and Stay, Spa and Swing (code SPA), guarantees all three. Hit the links, unwind on the massage table, and sleep in one of their decadent rooms or suites. Or bring the kids and go for the Family Fun Package (code FAMILY), which includes room, pizza, and 2-hour arcade pass. October IS National Pizza Month.
October's a big month. Over time it's been home to Thomas Edison's first electric lamp factory, initial sales of the Ford Model T, and the opening of Walt Disney World in Orlando. Sputnik 1, The Beatles' first single ("Love Me Do"), and the television juggernaut "CSI" were launched. Don't let history report that you sat out the most fun month of the year because of rain, fog or early hibernation. At less than 30 minutes from Olympia, Little Creek lets you get away for the day, evening, weekend or staycation. Call 800-667-7711 to reserve a room, dinner reservation, RV space, tickets, or with questions.
Sponsored