Dwell time. The term is commonly used in connection with websites and search engines, but within the Environmental Services (EVS) team at Grays Harbor Community Hospital, the phrase means something else entirely. Dwell time, explains EVS Supervisor Sami Watts is the amount of time it takes for germs and infectious diseases to die after you spray them with disinfectant. "The dwell times can be anywhere from 1 minute to 10 minutes, which is a broad spectrum," says Williams. "Even two minutes is a long time to keep a surface wet."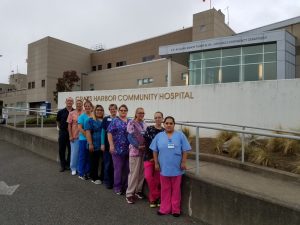 Watts and her team are Infection Preventionists, the ones in charge of making sure that patients don't leave the hospital sicker than they were when they entered it. Their role is essential in keeping not only patients, but also visitors and staff, safe from a host of contagious ailments that can be found in the hospital setting.
"Hospitals will traditionally get patients who are very sick or have compromised immune systems," says David Bain, Director of Plant Services. "You will get the extra infectious combined with the super immuno suppressed. Infection prevention focuses on how we keep these separate and protect each individual patient so we're not just spreading the problem."
Watts is a certified trainer in EVS methods, which allows her in turn to train and certify her staff. "It takes about a month and a half," she says. "They train on all shifts and all floors. We go into more detail in our surgery suites than we would our lobbies, but the cleaning methods are still the same."
EVS technicians learn to clean from top to bottom, left to right and cleanest to dirtiest. They use a special multistep disinfectant that includes both a neutral cleaner and a disinfectant. The rags they use are made of microfibers, which help to keep chemicals dispersed and pick up any microorganisms, folding them into fourths and using one-eighth of their surface at a time.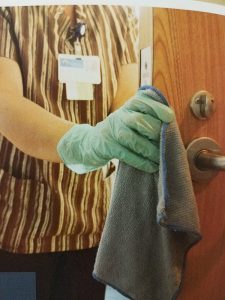 And then there are dwell times. "If you spray bleach or disinfectant on an area and you wipe it up, that doesn't mean you're going to kill all the germs," says Bain. "You have to let it sit for a set amount of time if you really want to get those resilient particles out of there."
One of the diseases most commonly contracted in hospitals, especially among older adults, is Clostridium difficile, generally referred to as C diff. C diff is a bacterium that causes diarrhea and colitis, i.e. inflammation of the colon. It often occurs after the use of antibiotics, but even young and healthy people with no history of antibiotic use can get it. Approximately half a million people contract the disease each year.  "It's one of the more common things that we see," says Watts. "It will stay on a surface for three to five months if we don't remove it correctly. We have to clean after a patient leaves and we use bleach because it will kill a spore. If gloves were left, we have to throw those out. We remove the cubicle curtains and the window drapes, and we remove hand sanitizer, so the nurses have no choice but to wash their hands with soap and water."
The EVS team also does sample swabs throughout the hospital on a regular basis to ensure that different areas meet their standards. "Not only do we make sure something looks clean, but we can verify that yes, we truly did make the room clean and it's safe for patients," says Bain. "It's an additional check that the department runs."
While the need to clean hospital rooms has been around for as long as hospitals themselves, the discipline of EVS has evolved over time. Traditionally, those who performed such tasks were considered part of the housekeeping department; then nurses and CNAs took over the role until their task level became too great. It's only been in the last few years that the Environmental Services label became widely used within the health care industry.
Patients respond positively to the EVS staff, says Watts. "When we go in, we introduce ourselves, explain why we're there, what we're doing and how long we'll be there. We have conversations with the patent and other family members. We're a friendly face so often people will tell us their whole life stories. We'll know if it's a patient's birthday and we'll do something special. I've had staff who were at the grocery store and former patients came up because they remembered them."
The work is rigorous, involving a combination of efficiency, manual labor, and both technical and people skills. "It's not the job to take if you just want to sit in a room and put your feet up," says Bain. "We have some fantastic employees that really hustle. The amount of expertise they need to have and the speed they need to keep up and support the clinical side of the house is truly amazing."
Watts agrees. "I always tell my staff, it's not a glamorous job, but it's a rewarding one."
Learn more by visiting the Grays Harbor Community Hospital website or calling 360-532-8330.
Sponsored