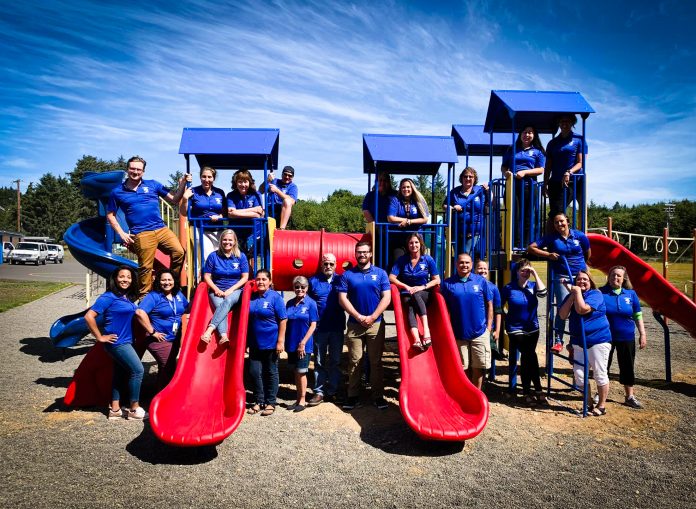 Submitted by North Beach School District
Superintendent Andrew Kelly took the helm of the North Beach School District in July of 2018. Since that time the district has worked together collaboratively to improve the schooling conditions and outcomes for each of the students within the North Beach School District.
Casey Roloff began in 2002 to build the town of his dreams, Seabrook. Part of that early design was the creation of a Montessori school to meet the demands within the Seabrook and surrounding community. Over the past 17 years, more than 400 homes have been built and sold and approximately 25 students annually since the school was created in 2012 have benefited from Montessori education at North Coast Montessori School.
For the past 15 months, Kelly and Roloff have met frequently and contemplated bringing the NCMS into the district. Currently, as a private Montessori School, NCMS receives no funding from Washington State to educate their children. This creates a financial burden and limits the families who can access North Coast Montessori School. Similarly, the students who attend North Coast Montessori don't generate revenue within the North Beach School District. From strictly a fiscal perspective it's a lose/lose.
From an educational perspective, Kelly suggested to Roloff that the two programs could co-exist, be mutually complimentary, provide equitable access to all kids within the North Beach regardless of socioeconomic status, and help to unify the communities.
Montessori education is a method of education that is based on self-directed activity, hands-on "discovery" learning, specialized educational materials, and collaborative group work. In Montessori classrooms, scholars make creative choices in their learning, while the prepared classroom environment and trained teachers offer developmentally appropriate activities to guide the process. Maria Montessori began testing this educational method in 1907 based on her belief that the needs and interests of the child should drive their education based on their developmental stage. There are more than 4,500 Montessori schools in the United States and over 20,000 worldwide.
The North Coast Montessori mission statement is: The educational philosophy at North Coast Montessori promotes the individual development of each student, academically, socially, physically, and creatively. We encourage independence, responsibility, intrinsic motivation, and organization, fostering confidence, self-esteem, and a lifelong love of learning.
North Coast Montessori students became students of North Beach School District on December 1, 2019. North Coast Montessori will continue to exist as a school within a school as part of Pacific Beach Elementary School for the remainder of the 2019-2020 school year.
The North Coast Montessori school will continue to be housed at Seabrook for the remainder of this school year and the 2020-2021 school year. The North Beach School District Long Range Facilities Committee is currently working on a plan to propose construction of a new Pacific Beach Elementary School. The hope of Roloff and Kelly is that as the new school is built, it will be built mindful of Montessori pedagogy and will allow one of two options moving forward. 1) Montessori education would continue to be a "school within a school" option for students at Pacific Beach Elementary, or 2) Pacific Beach Elementary School may opt to become a schoolwide public Montessori school. If this option is chosen, it would be the first public Montessori school in Grays Harbor County and one of just three in Washington State. Beginning in 2020-21, students in the general Pacific Beach community will be able to apply via lottery in to participate in the Montessori approach.
Superintendent Kelly commented recently, "I absolutely believe that North Beach School District can be one of the highest performing districts in our state. Our kids and families deserve it. It's up to the adults in our community to ensure that we deliver." Similarly, Casey Roloff commented, "We are very excited about combining our school with the North Beach School District under Andy Kelly's leadership and vision for North Beach."