When the cap and gown is put away and celebratory cake is finished, it's time for grads to get to work. Literally. Finding a job after graduation is seldom easy. But for hospitals and clinics looking to hire trained and certified medical assistants, there just aren't enough grads to go around. Thanks to a partnership between Harbor Medical Group and Grays Harbor College, newly minted medical assistants receive training, hands-on work experience and a lifelong profession in a much needed field.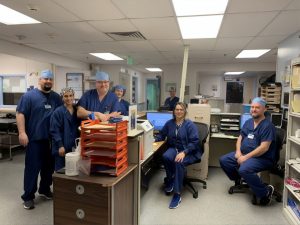 The U.S. Bureau of Labor Statistics (BLS) reports that "Employment of medical assistants is projected to grow 23 percent from 2018 to 2028, much faster than the average for all occupations. The growth of the aging baby-boom population will continue to increase demand for preventive medical services, which are often provided by physicians. As a result, physicians will hire more assistants to perform routine administrative and clinical duties, allowing the physicians to see more patients."
The American Association of Medical Assistants explains that their daily work might include "administrative duties…[and] taking medical histories, explaining treatment procedures to patients, preparing patients for examination, assisting the physician during exams, collecting and preparing laboratory specimens, performing basic laboratory tests, instructing patients about medication and special diets, preparing and administering medications as directed by a physician, transmitting prescription refills as directed, drawing blood, taking electrocardiograms, [or] removing sutures and changing dressings."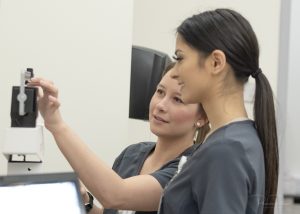 The Grays Harbor College program started in the fall of 2017 with their first cohort of students graduating in June 2019, explains Chrissie Erickson, program director and instructor. Students achieve their associates degree in applied science and 14 graduated in this initial group. As part of their spring quarter, class members take part in 180 externship hours, which allow them to experience on-the-job training. "Our main goal," says Erickson, "is to create entry-level medical assistants to provide care in our area."
"Medical assistants are in such great need in the healthcare community," agrees Elizabeth Tschimperle, executive director of the Harbor Medical Group. "This caliber program is important as the community grows and we're excited the program is here, serving this community." Working together, they hope to continue "giving grads a springboard to continuing education."
"What is important to us is that we are an organization that wants to be able to partner with the college and community," says Tschimperle. "We enjoy being able to grow our own employees."
One of those is Jalin Ruiz. Ruiz was enrolled in the Certified Nursing Assistant (CNA) program when a professor suggested Medical Assistantship. She job-shadowed a working assistant "and it was the best!" Since September 2019, Ruiz has worked at Grays Harbor Orthopedics. "I had great instructors who wanted everybody to succeed," she says. "And across the hall was a hands-on lab where everything really came together. I love working at Harbor Orthopedics."
Ruiz works with Tonya Tisdale, practice manager at Harbor Orthopedics. Tisdale has been on the board of the medical assistantship program since the beginning. She finds the lab especially beneficial. "There are some things you can't teach in a classroom setting," she admits. "I'd love to hire more grads because this program gives students an AA degree which is a step up."
Because the program is a partnership, graduates can learn, train and work along the way. This sense of community started from day one. "We really count on our advisory committee," says Tschimperle, "who can tell us what they're looking for in new hires." They also back each other through the complex accreditation process and look forward to a site visit for national accreditation in March 2020.
Of the first group of 14 graduates, seven are already working and 100 percent of the students who took their certification testing passed. The second cohort has enrolled 10 students and third has 16. While enrolled they'll take classes in such things as human body structure and medical terminology, lab procedures, pathology, pharmacology and medication administration, and medical insurance coding and billing. They'll practice using relevant computer software for appointment scheduling, medical records, and documenting charges or payments.
Know someone looking for their forever career? Incoming students are selected in June of each year and the application process is clearly laid out. Questions about the application process, pre-requisites, and program requirements can be directed to Chrissie Erickson at chrissie.erickson@ghc.edu or Marji Stratton at marji.stratton@ghc.edu.
Harbor Medical Group is dedicated to community service through patient satisfaction and expanded services. They are proud that "With over 45,000 patient visits a year and growing, HMG offers services such as: Internal Medicine, Pediatrics, Family Medicine, Orthopedics, ENT, Urology, General Surgery, Gastroenterology, and OB/GYN. Our Physicians and medical staff strive to provide the highest standard of health care in a comfortable, safe, convenient, and friendly environment."
Sponsored