There's a common saying in the wound care field: "Treat the whole patient, not the hole in the patient." That motto effectively sums up the approach at Grays Harbor Community Hospital's Wound Healing Center, where the medical team considers each patient from a holistic perspective, creates individualized plans and collaborates to restore overall health. "We practice advanced wound care here," says Chief Nursing Officer, Melanie Brandt. "We know everything that's going to impact wounds and we can offer treatments that you're typically not going to get in any type of facility other than a large urban hospital."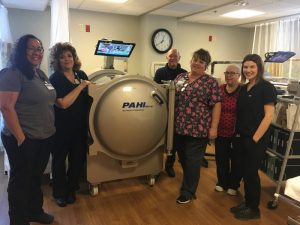 Since it opened in 2009, the center has treated thousands of Grays Harbor residents for chronic wounds such as traumatic injuries, crushing wounds, burns and lacerations. By far the most common conditions they see, however, are complications resulting from diabetes. "About 80 to 90 percent of our patients are diabetics," says Brandt. "Most of our vascular wound patients are also diabetic."
With such a high incidence of diabetes in Grays Harbor County, many of the related wounds are complex. A minor wound to a leg or ankle in an otherwise healthy person will heal relatively quickly, but in diabetics the process is not so simple. "The disease ravages the body," says Brandt. "These wounds start festering and become very complicated, chronic and non-healing because diabetes is playing such a large part."
Once a patient enters their care, the team works together to ensure that all factors are being taken into consideration as they develop a treatment plan. "We hit it pretty aggressively from the beginning," says Leanna Beechock, RN. "Our approach is to get a full picture of everything that's impacting this wound so we can put in multiple interventions like studies, referrals and support services."
Using a nine-step training protocol developed by Healogics, the nation's largest provider of advanced wound healing services, the medical staff determines the best path to take not only with each patient but with each wound. As an example, in some instances they may order vascular studies of the lower extremities or refer a patient to have special orthotic shoes created. "It's a way to make sure we're not missing anything along the way and we're treating everyone equally," says Joanie Sampson, RN. "We have a plan from the first day we see a patient to the last."
Among the advanced treatments the center offers, hyperbaric chambers rank high. Patients who qualify can use the chambers to address diabetic ulcers of the lower extremities, crush injuries, radiation necrosis, and more. "Hyperbaric therapy oxygenates the tissues and allows them to soften and heal so they can start to revascularize the small capillaries going into those areas," Brandt explains.
Aside from the physical aspects of healing, the medical staff also helps patients navigate the insurance world to ensure they continue to get the treatment they need and cover items like wound dressings, orthotic shoes, offloading beds and special wraps. In order to qualify for such items, patients must have the correct documentation. However, most primary care doctors don't provide it, meaning patients have to come up with the paperwork on their own.
"Our documentation justifies to the insurance companies that we are treating wounds appropriately and checking off all the boxes that they expect us to," explains Brandt. "The forms we have at the hospital are actually set up to navigate those things."
Overall, the group makes sure that by the time they leave, patients are both informed and empowered because they've had a say in their treatment plan and have a greater understanding of their condition. "A lot of patients come in and they're scared," says Krista Flock, RN. "They don't know what to expect. We make them feel comfortable and educate them.
Critical Charge Nurse, Kim Schroeder, agrees. "There's a lot of fear around losing limbs," she notes. "They may have heard a story about a neighbor or colleague. We calm those fears, inform them every step of the way, and get their buy-in on what kind of care they're going to get. Establishing a trust relationship is very important because we want them to feel comfortable being compliant with this plan we're putting in place."
The larger medical community also benefits from the added resources the center brings. Doctors with huge caseloads may not have adequate time to treat multiple chronic wounds on one patient. "We want these physicians to know they can send those people to the wound center," says Beechock. "We'll take care of those wounds and we'll keep them in the loop about everything they need to know."
As Brandt has pointed out, for a rural and remote community like Grays Harbor to have such advanced care available is unusual. For the many residents struggling with diabetes, it means they can save the expense and inconvenience of multiple monthly trips to Olympia or Seattle where such treatment is more common. "We're able to do all of these advanced therapies along with the referrals and testing that you normally wouldn't be able to get here," Brandt says. "Our goal is to put all of the pieces in place for our patients so their wounds will heal quickly, and they'll be in better health."
Learn more by visiting the Grays Harbor Community Hospital Wound Healing Center website or calling 360-537-6300.
Sponsored