The holiday season is one of family, friends, food and gift-giving. Some of our most iconic memories can be brought back by the familiar and beloved smells of cookies, pies, turkey and ham. For many Americans though, money is tight, so meals and everyday supplies become a luxury. This past holiday season, Summit Pacific employees continued their Summit Fights Hunger program, and also found a new way to help care for their community.
Summit Fights Hunger
To combat hunger in Grays Harbor, Summit Pacific once again hosted their Summit Fights Hunger event to provide meals to those in need. Visitors to the Café @ Summit—located in the Wellness Center—or the hospital's website were able to spend $25 to sponsor a "holiday meal pack," a full dinner for a family of four. The holiday meal packs included either ham or turkey, stuffing, green beans, potatoes, gravy, salad, rolls, pie and sparkling cider.
In its first year, the program raised enough to feed 124 local families. In the years since, they've exceeded goals, and had fun doing it! This year through Summit Fights Hunger, they collected enough funds to feed 134 families, which is more than 536 individuals. A grant from the Regal Foundation, covered the first 40 meals. They had a goal of 200 families and their partner, Amerigroup, donated enough funds to cover the remaining 66 meals.
"Partnering with Summit Pacific on Summit Fights Hunger for the Holidays campaign is one of the most rewarding activities our collective teams could participate in. It is a great feeling for all involved to be able to provide a complete holiday meal to families that otherwise may not have food for the holidays. The holidays are a time where we reflect on everything, we can be grateful for, where we identify ways we can give back to our communities and brighten the lives of those in need, and where we can come together to share in the holiday spirit. We (Amerigroup) are very proud to be able to be a part of it. Providers, Payors, and Communities CAN in fact come together and do great things," said Jacquie Owens, Regional Vice President of Provider Solutions at Amerigroup.
Partnering with Local School Districts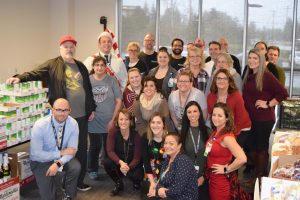 New this year was the additional partnership with Elma schools to nominate families who might appreciate the extra holiday meal. Summit Pacific's employee-led Spirit Team helped local schools through a combined toiletry drive. One of Summit Pacific's Medical Assistants, Jessica Wennberg, and her co-workers got involved in the Food Bowl to do more for the patients they care for each day.
"We wanted to get involved in the community and make a difference," she explains. "It's hard to see families in our community struggle, it's even harder for those families to admit they need help. Helping people in our community also sets a good example for our youth. We want to see change and inclusion in the community and make our community better. So, we decided to partner with Elma High School and see where we could best help their cause. We just so happened to inquire about helping at the same time they were starting their annual Food Bowl."
Members of Summit Pacific's Spirit Team broke into teams and had a blast working towards their donation goals through a bit of friendly competition.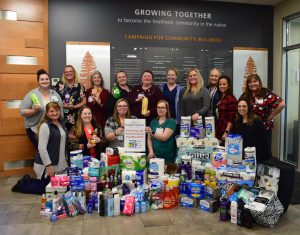 "Through the competition we were able to collect 1,264 toiletry items," says Wennberg. "These items were distributed between three local food banks. When I went to drop the items off, they originally sent out two teachers and the principle to retrieve the items, but when they saw how much stuff there was, they quickly recruited several students to help take items into the school. The teachers were absolutely shocked. It was a great feeling!"
Braving the weather, members of the Spirit Team also took to the streets to raise cash donations during the EHS Boot Drive. "Six Spirit Team members volunteered an hour of our time to do a 'Summit Takeover.' We stood at the main street intersection and held out boots collecting money from people as they passed through," says Wennberg.
Holiday hustle and bustle keep us busy. We sometimes forget that food on the table and the supplies of daily life are a luxury denied to many. Do your part to help those in your community who are struggling this winter season. Find lots of upcoming events, classes, and ways to help on Summit Pacific's Facebook page or the many event listings on their website.
Sponsored