During the COVID-19 pandemic, we all are attuned to the importance of staying home to limit our social interactions and flatten the curve. In order to encourage their patients to continue striving for their best health during this uncertain time, Summit Pacific Medical Center has recently launched their new telemedicine service.
Also referred to as the virtual visit program, Summit Pacific is thrilled to be able to offer this long-awaited service to the community. While the virtual visit program was something that Summit Pacific's innovative nature had envisioned for quite some time, it wasn't until the federal regulations regarding virtual visits were recently loosened that they were able to offer it to their patients.
Although the program was launched in a short timeline, it has already made a huge impact. While it's a relief that we're taking extraordinary measures to flatten the curve, the "Stay Home, Stay Healthy" order that was put in place by Governor Jay Inslee in mid-March has posed incredible challenges for nearly every business and individual around the state. "We know that our patients are wanting to see providers but are hesitant to come into the clinic," says Blake Rose, director of ancillary services and clinical director. "We want to make sure that they know that we're here for them."
In essence, the virtual visit program is available to anyone with internet and a smartphone, tablet or computer. Currently, all of Summit Pacific's primary care providers are available to take part in a virtual visit with their patients. In order to keep the access process as simple as possible, patients are encouraged to call the regular scheduling line or visit the online virtual visit request portal. If patients are unfamiliar on how to connect their device, the staff at Summit Pacific will happily walk them through the process to ensure connection.
Being quick to implement this program was an important step for Summit Pacific. "We are very flexible with our schedule and are offering appointments Monday through Friday," explains Rose. "Because we know how important it is for our patients to speak directly with their regular providers in a timely manner, we are also offering same day appointments as needed."
The appointments have been organized to flow much like a regular office visit and costs the same amount. If a patient would like a virtual visit and their symptoms don't require a visit into the clinic or hospital, then a virtual visit will be scheduled with their provider. They will then check-in, speak directly with a medical assistant and then have one-on-one time with their provider. "We want our patients to feel very comfortable in this uncertain time," explains Dr. Shawn Andrews. "While we may be unable to physically see many of our patients, we still want to preserve the continuity of care. When I get to speak with one of my patients, we are able to effectively discuss their health concerns because we have a relationship already established."
The virtual visit appointments are especially important for anyone with underlying health conditions so that they can limit their public outings. Summit Pacific is currently not seeing individuals at the wellness center clinic for respiratory complaints, so a virtual visit is an ideal compromise, or patients can be seen in person at the respiratory care clinic. If a patient would prefer to see their provider in person, the option is still available, or they can reschedule appointments for the future. "This is a program that we are incredibly happy to offer in an effort to keep patients at home and not at risk of contracting the virus, while also supporting them in their health needs," states Rose.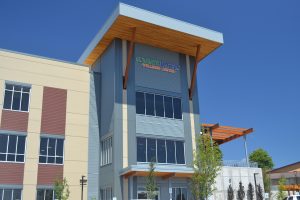 "With this new program," says Dr. Andrews, "the emphasis is really on the patient. We know that healthcare is more important than ever right now, and providers still want to see them, take care of them and are thinking of them during this time. The relationships that we've built are important and we're here to help with their sickness or illness. Please know, when this passes, we'll be here waiting."
For more information on the telemedicine program, call 360-346-2222, email info@sp-mc.org or visit the Summit Pacific Medical Center website.
Sponsored