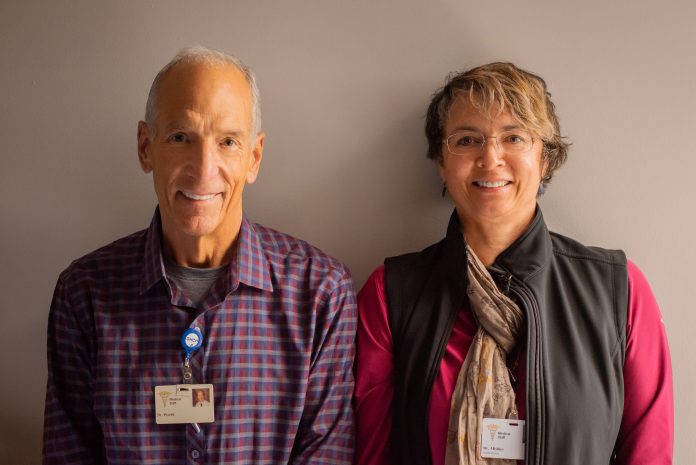 Submitted by Grays Harbor Community Hospital
HarborCrest Behavioral Health part of Grays Harbor Community Hospital (GHCH) in Aberdeen, is proud to announce their new Medical Director Dr. Larri Ann Mishko. Dr. Mishko takes over for long time Medical Director Dr. Bruce Worth following his retirement last month. Dr. Mishko has been working as a provider at HarborCrest since June 2019 and is well placed to continue the mission to heal, comfort, and serve our community with compassion.
Originally from Northern Idaho, Mishko relocated to Sequim in the late 1980s and practiced at the Jamestown Sk'lallam Family Health Center. "As a family physician, I wasn't planning on doing addiction medicine, but needed to get the training to cover our clinic in Sequim," explains Mishko. "I have found that this is some of the most rewarding work I have done. It is amazing to see patients healing in mind, body, and spirit. There's nothing like helping people get their lives back."
After working in the field of "outpatient addiction medicine, I wanted to further my experience to inpatient and detox," Mishko continues. "Once I met Dr. Worth and the care team at HarborCrest, it felt like a great fit. The program that Dr. Worth has developed is impressive, with an excellent reputation regionally and statewide."
According to Clinic Supervisor Angela Brumfield, SUDP, "Dr. Mishko is an excellent physician and a genuinely great human being. She is very knowledgeable with treating substance use disorder, very open-minded, kind and patient. Dr. Mishko has been here just a short time but she's the type of person you just feel like you've known forever. Her personality is fun, and she works well with our team, we are blessed to have her."
Over her years in the field, Dr. Mishko has worked with a variety of individuals. "One of our biggest challenges is the stigma associated with substance use disorder. Research has shown this is a chronic disease of the brain caused by many factors, including genetics and epigenetics. Many have faced devastating experiences in childhood and adolescence. People don't choose addiction and if they could stop, they would. Before we judge, think about what may have led to this person's use disorder. Some of the personal histories are heart breaking and shocking."
"Dr. Larri Ann Mishko has been the perfect fit for our team. She genuinely cares about her patients. She is courteous, kind, lighthearted, and empathetic. She can put patients at ease and helps provide a nurturing healing environment for them. Dr. Mishko engages and encompasses the clinical team to provide the best possible outcomes for our patients.  You can tell she has a true passion for helping those with Substance use disorders." said Nurse Manager Tracie Moen, RN, BSN.
If you or someone you love would benefit by this type of caring, supportive environment, please call 360-533-8500, 24 hours a day, seven days a week. Someone at the front desk will do their best to schedule an appointment quickly and treatment can begin.
Inpatient Services:
Detoxification and Stabilization
Chemical Using Pregnant Women Service (CUPS)
Medication Assisted Treatment (Suboxone®)
Outpatient Services
Substance Use Disorder assessments, including DUI evaluations, court-ordered, and CPS-ordered.
Intensive outpatient program and aftercare.
Alcohol and drug information school.
Buprenorphine (Suboxone®) Medication Assisted Treatment (MAT) groups.
Family Program
Specimen Screening Services
Breath Alcohol Testing (BAT) and urine drug screens by certified technicians
Urine specimen screening services by trained Specimen Testing Tech (STT)
Hair testing
Instant results testing available to employers and concerned parents/spouses
S. federal probation testing site
WHPS and WRAPPE approved testing site
DOT drug and alcohol testing site
Pre-employment
DCFS
Non-DOT/Individuals
To learn more, please visit https://www.ghcares.org/harborcrest.
Special thanks to freelance writer Kathryn Millhorn for her help crafting this release.
About Grays Harbor Community Hospital
Grays Harbor Community Hospital (GHCH) Aberdeen, Washington, is a comprehensive regional medical center providing quality care to a region of over 70,000 residents covering the 2,000 square miles of Grays Harbor County within Grays Harbor Public Hospital District II. Established in 1959, Grays Harbor Community Hospital is licensed for 140 beds; services including a level-three trauma designated emergency department, critical care unit, surgical services and Family Birth Center. GHCH's outpatient services include diagnostic imaging, rehabilitation therapies, wound healing center, surgical services and physician clinics.
Learn more at www.ghcares.org