Born in Grays Harbor and raised in Montesano, Mackinzie Malizia still resides happily in her hometown. A 2013 graduate of Montesano High School, she didn't want to stray very far from her hometown. "My family for sure is the main reason," she says. "I couldn't imagine not being a few minutes from them. But I love the closeness of the small community. I love being able to drive through town and know at least one person I see." She's worked at El Rancho and Timberland Bank, both in Montesano, and says the connections she's made were only possible in a small town. Today, one of the ways Mackinzie shows support for her community is by selling unique, altered shirts of her own design.

The inspiration behind Mackinzie's self-proclaimed hobby came when she was shopping online for distressed-style shirts. The $50 price tags alarmed her. "No, that's crazy," she thought. "I don't want to spend $50 on a shirt and I know other people don't, either." That's when she decided to make her own distressed-style clothing using shirts she bought for less than $10 from thrift stores and garage sales. She joined a movement of people recycling old clothing, one potentially spurred by Macklemore's famous song, "Thrift Shop." But Mackinzie didn't anticipate the attention her designs have garnered. "Friends wanted some and my mom wanted one," she says. And now she's been making and selling them ever since.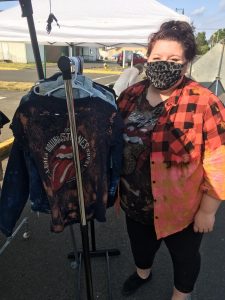 The alteration process Mackinzie's shirts go through is quite simple. To achieve the distressed look, she first cuts small holes in various places along the edges of the shirts. Then she'll often cut Vs into the necklines and remove hems altogether. Next, she treats the shirts with bleach, sometimes dipping them and sometimes spraying them. Then to finish them she tumbles the shirts in the dryer. But what makes Mackinzie's designs distinctive is the fact that the results of the alteration processes are never the same.
Where a manufacturer can produce large quantities of the same exact shirt, every shirt Mackinzie makes is unique and holds value as a truly one-of-a-kind piece. And that's her favorite part. "When I take the shirts out of the dryer and see how they changed, most of them are a surprise," she says, describing one of the coolest aspects of the way the shirts become finished products. "Especially with the colors. The colors after they're bleached are always a surprise to me." Certain dyes in some shirts react with the bleach to change colors. A particular red dye might turn orange while a green dye might turn yellow or a black will turn blue. Regardless, the result of each shirt Mackinzie touches is the creation of an entirely new top and, according to her, it all takes less than 10 minutes.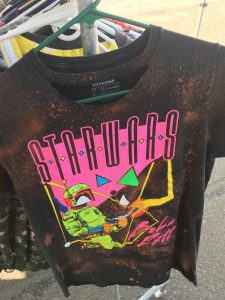 In the summer, Mackinzie's designs can be found in a booth at the Montesano Saturday Morning Market. Year round, they can be found online on her Instagram page and Etsy store, Flannels249. Truthfully, though, Mackinzie doesn't always sell her shirts in the way she intends. "I'm so bad at giving shirts away for almost nothing," she says. "At the market I set a price but usually don't ever sell one for it." She doesn't do this because her customers barter her down, she does it because she makes the shirts for fun. "I feel weird selling them for how much everyone tells me I should," she says. "It's just something I like to do and if someone else likes what I've done it's just kind of a bonus." She often distresses specific shirts requested by family and close friends for free.
No, you won't find $50 shirts being sold by Mackinzie. But what you will find from Mackinzie are exclusive, affordable fashion statements for adults, youth, and even newborns that can't be found anywhere else. She started with flannels and has since branched out into graphic T-shirts, jackets, and denim vests with the intention to add more clothing options to her inventory. Those could possibly include jerseys, men's wear and others. To check out her one-of-a-kind creations, visit her Instagram page and Etsy store, Flannels249.