Since the arrival of COVID-19, many social activities and group fundraisers have been put on hold. But creative organizations found fun ways to get out, raise awareness and still have a safe time together. Summit Pacific Medical Center's staff and foundation members rolled out on the inaugural Tour de Wellness bike ride despite 2020's many ongoing challenges.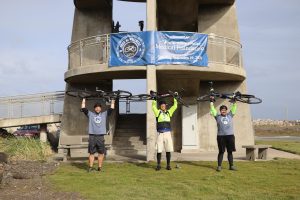 The CDC suggests bike riding as a good way to "stay distanced while staying active. Consider going for a walk, bike ride, or wheelchair roll in your neighborhood or in another safe location where you can maintain at least 6 feet of distance between yourself and other pedestrians and cyclists."
With this in mind, Summit Pacific opted to go ahead with their first Tour de Wellness excursion. Foundation Director Emily Dillingham was excited for the goal of "riding the Harbor for health."
Originally planned for Saturday, Sept. 19, the event was postponed until Oct. 17 due to health impacts from the region's blanket of wildfire smoke. According to the Department of Ecology that week alone was very high risk. "With no wind and a thick blanket of smoke over the entire state, little sunlight reached the surface, meaning there was none of the usual daytime warming that produces evening breezes…forcing millions of residents to shelter inside. As that smoke settled, air quality grew worse and worse. Between Saturday, Sept. 12, and Thursday, Sept. 17, every single air quality monitor in Washington State recorded levels of particulate pollution above the federal 24-hour standard."
By October, the worst of the smoke had passed, and riders were finally ready to take to the roads. Originally more than 50 had signed up, but postponement issues meant only about 15 made the trek on a route inland to the Pacific. Since this was "the inaugural year to test the feasibility of a big community bike ride," says Dillingham, participants' spirits were high.
While getting outside and being active is all the reason you need to participate, others had more  meaningful reasons to ride including one participant who made a pledge to stay well in honor of her late son, and another who was just beginning to ride again after a catastrophic health event.
"Our hope and desire is to grow this ride into a larger, family friendly, community inclusive event with activities and distances for all rider levels in the coming years," says Dillingham. Everyone in attendance wore masks until the riders departed and maintained adequate social distance at the starting line. "Biking is open to people of all activity levels, and safe even without a mask when you get going."
The trial event was not open to the public and invitees consisted of hospital and Foundation staff, local civic leaders and business owners from across the region. "Riders were given a warm send-off by Mayor Brenda Orffer and the McCleary Police," says Dillingham. "Some riders completed 7.4 miles by finishing in Elma at Summit Pacific Wellness Center. The majority rode all 54 miles to Westport, stopping for water and refreshments in Cosmopolis. The weather was sunny, and all riders finished injury-free. The purpose of the event is to promote wellness by encouraging residents of Grays Harbor County to get active with their friends and family and cheer one another on while doing it. Save the date for next year's ride: June 12, 2021!"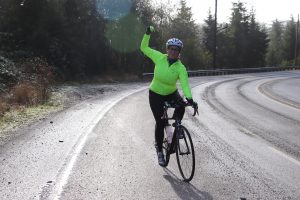 Next year the Tour de Wellness will be open to everyone. Foundation planners are hoping for more than 100 riders with corporate sponsors acting as fundraisers for the Foundation. Set as a "kick off to summer," says Dillingham, they'll advertise in bike shops countywide, regional Chamber of Commerce meetings and throughout the community.
Cycling is timeless fun which can be enjoyed by almost anyone. Whether your bike has two wheels or three, Harvard Health encourages riders to get out there because it's easy on the joints, provides an aerobic workout, builds muscle, helps with everyday activities like balance, and builds bone density. Just don't forget to wear a helmet, bring a mask for crowded spots where you can't stay 6 feet away from others and aim for high-visibility clothing when riding around cars.
To track the details of next year's ride, like the Medical Center and Foundation on Facebook, call 360-346-2250 or email Foundation@sp-mc.org. Want to start training for 2021's long-haul? Follow the provided 8 Week Bike Training Schedule and you'll be ready to go.
Sponsored