Starting a new job is both exciting and stressful. Starting one during a pandemic requires tremendous drive, confidence, skill and heart. For Summit Pacific Medical Center's new Chief Nursing Officer Tori Bernier, it's been a transition that felt more like coming home.
Author John C. Maxwell once said that "A great leader's courage to fulfill his vision comes from passion, not position." When it comes to nursing, Bernier knows that to be true. Othello, WA born, and Yakima Valley raised, she graduated from Central Washington University with a degree in education. But from the age of 16, she'd worked as a nurse's aide to bring in extra money. "I realized I was bounding to work as an aid but dragging myself in as a teacher," Bernier recalls, so she made the career shift.
Initially working in a small critical access hospital, Bernier was lucky enough to experience all departments including the family birth center. She then moved to Alaska before coming back to the Vancouver, Washington area around 2000. "I had lots of experiences, but wanted to come back to a small hospital," she recalls.
Having met a previous Summit Pacific CNO at a medical conference, Bernier researched the hospital district and Grays Harbor area. SPMC's vision that "Through Summit Care, we will build the healthiest community in the Nation" resonated with her, and seeing the CNO position was available, she started the process.
As of September 2020, Bernier was on the job.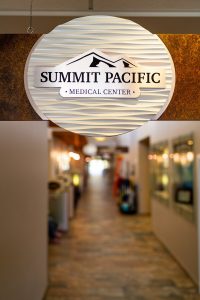 Though an executive position, like anyone in a rural hospital, Bernier does it all. While she mostly does rounds and works with fellow members of the executive team to help guide and shape the future of SPMC, she says she would jump in if they need her.
"Our executives are super, remarkably talented, flexible and collaborative," she says, adding that it makes her feel confident as the final step in the nursing chain of command. This is vital because the Department of Health holds CNO's accountable for issues of quality and safety.
On a weekly basis Bernier supports the emergency, acute care, pharmacy and infusion departments. Officially she supports her team of 150 caregivers, but she feels in touch with everyone who works there. "I feel like I support all 400 plus hospital staff," she says. In doing so, she's able to work with—and for—the entire healthcare team.
"I would hope rural communities could be a voice at the table in healthcare," she says. "I want to be an advocate at the state and national level for rural hospitals." With this in mind, Bernier's an active member of the Washington Rural Health Collaborative. The organization's purpose is "To support Collaborative members to better serve their communities, to overcome the challenges of rural healthcare, to take advantage of the opportunities that a collective provides [and] to speak with one rural voice."
Now that she's feeling settled in, Bernier isn't going anywhere. "I'd love to retire here, and I hope I can bring structure and guidance to the nurses and the hospital during my time. I want to be someone who lives and works in the community because that gives you more stake in the game."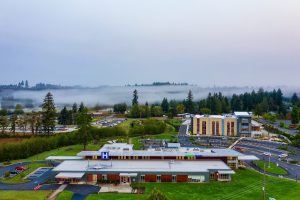 When it comes to advice to new providers looking for their forever home, the answer is simple. Smaller, more rural hospitals need staff who are nimble and have both heart and soul for their community. Spending many years in similar facilities helped Bernier purposely collect skills that have been invaluable through her medical journey. "As a young nurse I tried every department," she admits, and "nurses are used so much more in smaller hospitals, as they can do it all."
Outside of work she and her husband, who recently relocated this past autumn, enjoy golfing and spending time with friends. Bernier admits she's probably addicted to learning since her initial bachelor's degrees in education and nursing were joined by an MBA and she's now working on a Doctorate in Nursing Practice. Who knows? Maybe she'll add more degrees as the years go by.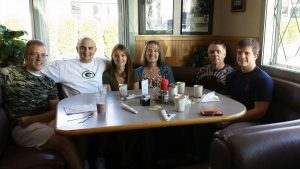 Summit Pacific Medical Center prides itself on the core values of passion, respect, integrity, compassion and excellence. Their mission is simple "In partnership with our community, we passionately advance the health of all individuals with an emphasis on quality, access and compassion." With the arrival of Tori Bernier, they've added another quality partner into the family. Her experience in every aspect of nursing—from aide to supervisor—means she understands all the ins and outs and can pitch in any time she's needed.
If you or someone you love needs quality, compassionate medical care, Summit Pacific is always there to help. Primary Care Clinic hours are from 7 a.m. until 5 p.m. Monday through Friday and their emergency department and urgent care clinics are available seven days a week. Call 360-346-2222 with questions or to schedule an appointment today. During COVID-19 restrictions, there is curbside check-in and expanded testing available.
Sponsored