Tiny but mighty is the mantra of Chapel By The Sea Presbyterian Church (CBTS) located on the border of Moclips and Pacific Beach. Their 22-member congregation may be small, but they have made a big impact in the North Beach area. Members embrace their Matthew 25 status, which calls for actively engaging in the world and to serve people who are hungry, oppressed, imprisoned or poor.
In early 2020, Chapel By The Sea was designated a Hunger Action Congregation. CBTS member Cindy Stearns teamed up with Phyllis Shaughnessy, founder of Green Lantern Lunches, and Clint Davis, coordinator for the North Beach Community Emergency Response Team and together they formed the Hunger Action Team (HAT). The plan was to address food insecurity in North Beach. When the pandemic hit, they pivoted to making Coronavirus safety kits. "When we first started HAT, there was a small fund designated for hunger," says Cindy Stearns, HAT lead coordinator. "COVID was not in the budget. So, we put a small kit together with a bandana, hand sanitizer, and information sheet with food and emergency resources."
The HAT team first reached out to local businesses and then expanded to national businesses. By the end of 2020 they had supplied more than 4,000 masks to the community. Cindy admits she had no idea how positive the response would be. "Boomers Naturals gave us 1,000 masks that we distributed around Humptulips," says Cindy. "Tom Bihn, a Seattle-based company, helped us distribute kits to the Lake Quinault School District. Molina Healthcare has also given us masks and local companies like Timberland Bank, Ocean Pours Taproom, and The Moore Wright Group have all made donations that keep our program going."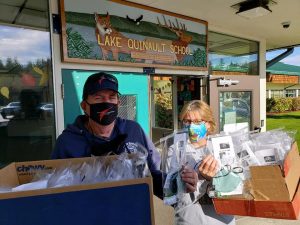 More recently, HAT and CBTS have pivoted again to help food insecurity in a unique way that also puts money back into the community. After being awarded a Cares Act Grant by the Grays Harbor County Commissioner, HAT teamed up with area restaurants to provide a once weekly hot meal to individuals and families in the area.
HAT volunteers deliver the meals on Tuesdays. Participating restaurants include Surf House Espresso in Pacific Beach, Koko's, Frontager's Pizza, and Front Street Market in Seabrook. The HAT team coined the meals, Thank-FULL meals, and dishes have included salads, Stromboli, burritos, baby back ribs, and cookies.
One enthusiastic meal recipient said: "What a joy to be able to try different foods from local restaurants I have not experienced before. Thank you to all the behind the scene volunteers for living your values and caring for others and making a positive difference in the community."
The HAT team hopes to continue its Thank-FULL meal service for as long as they can afford it. Interested volunteers and supporters are encouraged to connect with Cindy and the HAT team. CBTS has always been known as a congregation that feeds people. In a normal world, after worship on Sundays, they would all sit down to lunch together. Last summer the church had its 60th anniversary, but the in-person celebration has yet to happen. For now, Pastor in Residence Reverend Dr. Linda Flatley still gives her sermon over Zoom.
Cindy and the HAT team will continue addressing food insecurity and delivering safety kits to anyone in need and are ready to pivot in new directions as needed. "This work has opened our minds and our heart," says Cindy. "It has all evolved and is a miracle of circumstance. We will continue to keeping watch for hunger and safety as long as the community needs us."
If you would like to help with a monetary donation, you may donate online  or mail:
CBTS
PO Box 194
Pacific Beach, WA 98571
(Note/Memo-CBTS, HAT-Kit)