Ensuring that Summit Pacific's facilities are efficiently cleaned, sanitized, and prepared for patients 24/7 has always been of upmost importance to the organization. When COVID-19 began to rapidly spread in early 2020, Summit Pacific responded by quickly ramping up their efforts to ensure a safe space for both their patients and caregivers. Luckily for the facility, Environmental Services Supervisor, Angela KiviAasen, had recently completed the Certified Health Care Environmental Services Technician (CHEST) certification and was prepared to assist in battling the newfound virus through her knowledge.
In May of 2019, KiviAasen traveled to Salt Lake City to participate in a three-day CHEST certification training. The course was built after workers from across the country diligently petitioned the Association for the Health Care Environment for a comprehensive training program for environmental services supervisors and the staff they lead. CHEST was established using a comprehensive nationwide job analysis of a health care environmental services technician's responsibilities and defined focus groups. The training program covers all aspects of a frontline worker's typical tasks and accountabilities.
Armed with her newfound training, KiviAasen traveled back to Elma and began implementing her skills and gearing up to train the EVS technicians, who work on the frontlines at Summit Pacific.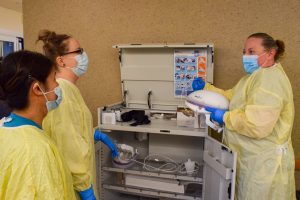 The CHEST program that KiviAasen is now certified to teach is comprised of 24 hours of required classroom instruction. The content covered during the workshops consist of seven distinct domains, including:
Cleaning and Disinfection (cleaning patients' rooms, high touch surfaces, restocking of supplies)
Waste Handling (properly removing solid waste, disposing of medical regulated waste, etc.)
Floor Care (dusting, wet moping, vacuuming)
Linen Handling (removing damaged or stained linens, safely collecting soiled linen, cleaning and making beds)
Infection Prevention (properly donning and doffing PPE, prevention of the spread of germs and bloodborne pathogens, learning about microorganisms, etc.)
Safety (identifying potential hazards and reporting any problems)
Communication (learning excellent customer services skills, displaying sensitivity).
Each domain is covered in a series of 10 modules that require a predetermined number of instructional hours with its own set of specific learning objectives.
The criteria to participate in the training course is to be a qualified EVS worker at Summit Pacific for at least six months and have past cleaning experience. The first two participants to be trained by KiviAasen were Aihya Gasper and Lourdes Darst. "I'm proud of the first two participants to become CHEST certified," says KiviAasen. "Both Aihya and Lourdes passed their exams and did really well learning the curriculum."
Although original plans included training more than two EVS technicians in 2020, the pandemic significantly slowed things down, however KiviAasen is on track to train another six staff members in 2021. Three of her current trainees are Samantha Bohannon, Lisa Unick and Joelle Dodge.
"Our overall goal is to eventually certify all EVS techs at Summit Pacific," explains KiviAasen. "We're doing this in increments with two last year, six this year, and then next year we will complete the rest of the EVS techs. We want to make the certification an ongoing standard for our department. This experience has been fun, and the team is very receptive and enjoys the content being covered."
While a great deal of trials have been faced head-on throughout the past year of the pandemic, the CHEST certification program will certainly aid EVS technicians in their positions. They play an essential role in patients' experience of care and ensuring the safety and satisfaction of all at the facility.
"EVS techs sometimes go unnoticed," expresses KiviAasen. "I hope that they feel more recognized through this certification program as they're an integral part of our team." To learn more about the Medical Center's services, careers, virtual events and more, visit the Summit Pacific website.
Sponsored