Everyone knows that if there's an emergency, call 911 or head to the ER. But for the normal medical care of day-to-day life, having a family doctor who knows your complete history—or that of your children—saves time, reduces stress, and generally streamlines care. Harbor Regional Health's widely experienced Dr. Lynda Stafford is dedicated to serving you and your family across the full span of your life.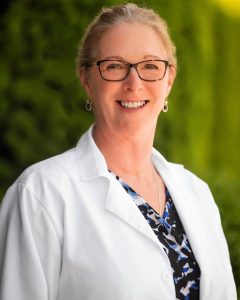 Though Stafford is a new-hire to the Harbor Regional Health Family, she started in June 2021, she's been caring for families in the Pacific Northwest for more than a decade. She describes her work as having a passion for "family medicine, the proverbial cradle to grave care. Babies, kids, men, women; anything but delivering babies and caring for newborn infants." Her scope of practice also includes procedural care like suturing or skin biopsies as well.
A Texas native, Stafford moved west in 2005. She loves her current smaller Northwest setting as it feels like coming "back to my roots, I spent quite a bit of time in the country." A single mom when she moved her flock of dogs, kids and horses to Washington, her children all graduated from high school and college in the Pacific Northwest and her son currently serves as an active member of the Marine Corps.
As a graduate of the University of North Texas Health Science Center—Texas College of Osteopathic Medicine, Stafford is a Doctor of Osteopathic Medicine (DO) versus the traditional Doctor of Medicine (MD). This means she focuses primarily on whole-body care and preventive options for patients across the board.
"Something about this area spoke to me," shares Stafford. As a passionate horsewoman, she's currently looking for a property in Grays Harbor County that will accommodate both her two- and four-footed family. "The first weeks are going marvelously; everyone is so fabulous," she adds. "The clinic manager is a dream come true and it's taking a village to raise me, with the new community and new computer systems."
"I really can't say enough about them," Stafford continues. "Everyone is so dedicated and it's all about the patients and their welfare. I'm just blown away by it and so happy to call this my new home." She's currently accepting new patients and is excited about her role in family medicine because "I love that you see something different every time."
Studies show "When doctors treat you for years, they get to know your medical history inside and out. That helps them make accurate diagnoses, watch for red flags regarding medications and monitor changes in your health through the years…And data suggests that adding one primary care physician (such as a family doctor) for every 10,000 people can lower hospital admissions by 5.5%, emergency room visits by 11% and surgeries by 11%."
This is because family doctors can spot small changes, be on the lookout for family history red flags and answer questions without having to call around to previous providers. A cradle to the grave doctor like Dr. Stafford becomes part of the family as she learns and grows alongside your loved ones.
If you're looking for a new family medicine specialist, give the Montesano Clinic a try today. They offer sports physicals, diabetic care, chronic disease management, wellness exams and much more. Read a full list of in-office procedures and available vaccines and immunizations on their website then call 866.537.2778 to make an appointment.
Sponsored