Submitted by Westport Winery
Author Lila Biggs Mitchell will hold a book signing at Westport Winery on Saturday, November 27, from 12 p.m. to 3 p.m. An Ocosta native, Mitchell will sign three books, "Ocosta By-the-Sea," "The Way They Were" and "Teaching Juvenile Justice." All the books will be available to purchase from Mitchell during this event.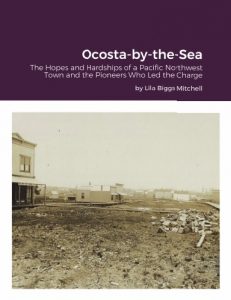 "Ocosta By-the-Sea," is a story of the hopes and hardships of a Pacific Northwest town and the pioneers who led the charge. Once considered to become the western terminus of the Northern Pacific Railroad, Ocosta has a rich history from boom to bust.
"The Way They Were" are the whimsical short stories of Harry A. Biggs. Mitchell is the editor of this book and Biggs' daughter. With this book, she provides insights into the community, as well as the unique character of her father.
A long-time educator, Mitchell wrote "Teaching Juvenile Justice" as a back door social studies guide.
Westport Winery Garden Resort's 15-acre property is located halfway between Westport and Aberdeen at 1 South Arbor Road, Aberdeen WA. It is home to the award-winning Sea Glass Grill and the new Mermaid Lounge, as well as Ocean's Daughter Distillery, and the International Mermaid Museum. The restaurant, distillery, tasting room, gift shop and gardens are open daily from 11 a.m. to 6 p.m. For more information visit the Westport Winery website.c