This calendar is the place to find fun events happening throughout Grays Harbor County including Aberdeen, Hoquiam, Westport, Ocean Shores, Elma, Montesano and beyond.

Jul
5
Sat
Seafood Shindig

@ Ocean Shores Lions Club
Jul 5 @ 2:00 pm – 7:30 pm
The Coastal Interpretive Center is having a fundraising event called the "Seafood Shindig." The event will feature local Quinault Tribal members preparing salmon in the traditional way. It will be served with coleslaw, garlic bread, water or pop, and dessert. Spaghetti will be offered as an alternative if someone would rather not have salmon. Galway Bay Pub is partnering to offer additional beverages for sale in an outside beer garden. We are selling tickets for three timeslots (2:00, 4:00, and 6:00). Tickets are available at Coastal Interpretive Center, Ocean Shores Visitor Center, The Dusty Trunk, Sipping Serendipity, Gordon's Antiques, and in Aberdeen at GH Wine Sellars and the Visitors Center.
In addition to the dinner, we will be having a silent auction and raffle items during each time slot. We hope that lots of our locals see the benefit of keeping the Interpretive Center open for all to enjoy.

Apr
25
Thu
Orcas, Salmon, and You, oh my

@ Mt Olympus Brewery
Apr 25 @ 6:00 pm – 8:00 pm
Sep
21
Sat
10th Annual Lake Sylvia State Park FALL FESTIVAL

@ Lake Sylvia State Park
Sep 21 @ 7:00 am – 4:00 pm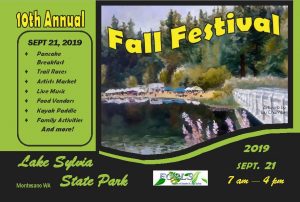 10th Annual Lake Sylvia State Park
FALL FESTIVAL
Saturday, September 21, 2019 at 7 AM – 4 PM
Lake Sylvia State Park – 1813 Lake Sylvia Rd North Montesano, WA
https://www.facebook.com/LakeSylviaStateParkFallFestival/
Pancake Breakfast
7 am—11 pm $5
Trail Races 8:30 am
Half Marathon / 10K / 5 K
Artists Market 9 am—4 pm
Food Booths and Live Music
Historic Talk by "Doc Shores" 1 pm
Kayak Paddle 2 pm
Kids Vintage Games and Nature Crafts
Educational booths by Stream Team