This calendar is the place to find fun events happening throughout Grays Harbor County including Aberdeen, Hoquiam, Westport, Ocean Shores, Elma, Montesano and beyond.

Jun
10
Sat
Free Fairy Garden Class

@ Westport Winery Garden Resort
Jun 10 @ 10:00 am – 12:00 pm
The Grays Harbor and Pacific Counties Master Gardeners will hold a free plant clinic. Guests are invited to bring a planter or pot with soil as they receive assistance from the master gardeners on how to create a quaint and cute fairy garden. Reservations are not required.
All attendees will receive a 10% discount on plants. All ages are welcome. Folks are also welcome to bring random plant and gardening questions to get advice from the master gardeners.
The nursery at the winery has a nice array of plants including perennials, shrubs, trees and fruits. All herb starts, vegetables, baskets, planters and annuals are 40% off.

Jun
30
Fri
Library in the Gardens

@ Cultivating Roots Garden
Jun 30 @ 2:00 pm – 3:00 pm
Sep
21
Sat
10th Annual Lake Sylvia State Park FALL FESTIVAL

@ Lake Sylvia State Park
Sep 21 @ 7:00 am – 4:00 pm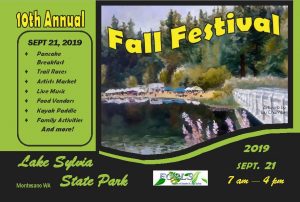 10th Annual Lake Sylvia State Park
FALL FESTIVAL
Saturday, September 21, 2019 at 7 AM – 4 PM
Lake Sylvia State Park – 1813 Lake Sylvia Rd North Montesano, WA
https://www.facebook.com/LakeSylviaStateParkFallFestival/
Pancake Breakfast
7 am—11 pm $5
Trail Races 8:30 am
Half Marathon / 10K / 5 K
Artists Market 9 am—4 pm
Food Booths and Live Music
Historic Talk by "Doc Shores" 1 pm
Kayak Paddle 2 pm
Kids Vintage Games and Nature Crafts
Educational booths by Stream Team