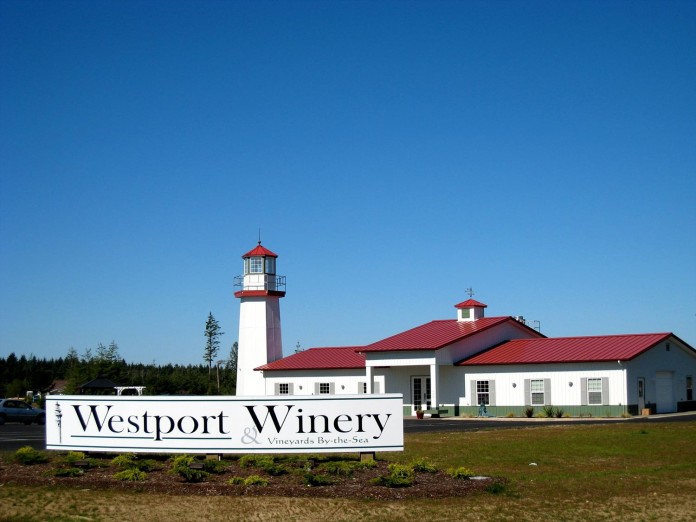 Submitted by Westport Winery
Westport Winery, long known as a pet-friendly property, has become the site of Grays Harbor County's first off-leash dog park. According to winery co-owner and dog-dad, Blain Roberts, "It's always fun to visit with our guests and their pooches at the winery. We love them and want them to feel safe and welcome outside." (Only service dogs are allowed inside).
The winery's landscape designer and co-owner Kim Roberts said, "Several guests suggested we make our canine welcome mat a little bigger…so we did. Just for them and their four-legged friends we've built our own off-leash dog park!" This fenced lawn–where the original grape maze was located–is surrounded by the sweet scent of lavender. "We think it's the perfect place for us to offer our guests' dogs a chance to play, meet new friends, and maybe have a potty break," she said. "Guests are always welcome to walk their dogs on-leash through the botanical gardens so we don't want the dog park to deter them from enjoying our entire destination experience."
The Roberts' dogs Lulu and Curzon will officially "christen" of the new park on Sunday, October 6 at noon during their Crush Me, Squeeze Me, Make Me Wine at the Beach Festival. Lulu is well-known from the book Winery Dogs of Washington. Both Lulu and Curzon were featured in the book Dogs Tell Their Stories. The winery has hosted Yappy Hour every Sunday afternoon during the summer for the past five years as a time and place for people and pets to socialize in a fun and neutral setting. The new area is called Our Best Friends Park.
Even on Washington's notoriously cool coast, there are some hot and sunny days. "To help make this a more safe and comfortable space we also added several shade tree plantings in our parking area so that those "kids" in the car don't get over-heated," Roberts said. "Plus, there's always a clean bowl of water and complimentary waste bags available to guests to increase the convenience and comfort of their visit."
Westport Winery, the 2013 Best in the Northwest Destination Winery, is located on the corner of Highway 105 and South Arbor Road halfway between Westport and Aberdeen. For more information or dinner reservations call Westport Winery at 360-648-2224.