By Chelsea Royer

Kelly Niemi boasts the title of "Cement Artisan." Not quite the trade you'd expect coming from a lifetime Grays Harbor resident.
Niemi first dabbled in the craft when designing the kitchen for his home. Not discovering any local options, Niemi decided to fashion his own cement countertops. Upon completion, he assumed that would be last of his efforts in cement design. It turns out Niemi wasn't the only one in his acquaintance drawn to the industrial feel of cement. With more and more people requesting him to make pieces and the love of the hobby growing, Niemi opened his business, Agitated Aggregate, in 2006.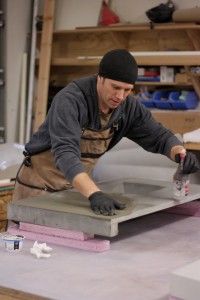 Despite Niemi's shop being connected to his home and far away from any main roads, he does very little advertising. Most of his business comes by word of mouth. Almost without fail, people view his various hand-crafted sinks, desks, and furniture and exclaim in shock, "That's made out of concrete?" Truly, the sleek, smooth feel and appearance of each piece makes it difficult to believe it was made out of something as rough as concrete.
"I got a great response out of  (my first home show) and had a lot of people ask me questions. People would give me a funny look of disbelief when they discovered it was made out of concrete – they loved it," expresses Niemi regarding his experience at his first home show.
Much of Niemi's inspiration comes from mid-century modern design and his connections with a community of cement artisans. He and the other artists compare finished projects and ideas and Niemi explains that not only is there mutual inspiration amongst the group, but also some friendly competition and desire to outdo the other. In this way, Niemi is spurred forward to keep producing something more attractive and unique than the last creation.
Niemi explains his favorite projects to tackle involve bathroom sinks and that his preference is to accept clients who allow him some creative liberty. "A client once called me up and told me he had some ideas and a color in mind for a sink, but ultimately said, 'Build me something really cool.' Those are the kinds of clients I love to work with," Kelly insists. "They know they want something cool but they leave it up to me to come up with the end product. It's a little nerve wracking, but it is so awesome to design a piece for a client…to watch them walk in and freak out because they love it. That to me makes it worth it."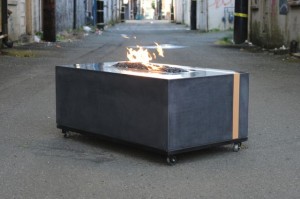 Niemi's projects have covered a broad spectrum – from sinks and countertops to desks, fire tables, and fireplaces. Each piece is hand-crafted within his shop where he has more control over the shape and result. His latest project is a countertop for the Westport Winery. He expressed excitement over an additional, surprise piece he's planning for the Wine Club portion of the restaurant. His creativity and enthusiasm for the piece is sure to design an eye-pleaser.
Though Niemi has a day-job on top of his business, he still finds plenty of time to focus on his family. When he first began Agitated Aggregate, he told his wife, Julie, that in order for him to run the business he would have to do it from his own studio. Niemi expresses he could never relocate away from the home as there is something very special about his kids being able to walk into his shop at any point to talk or watch him work. Being tied down away from home on his days off would get in the way of family time.
Sometimes life becomes more difficult to balance when he gets busy, but his wife is super supportive. "My wife understands that if I don't build something I get a little stir crazy.  I have a hard time sitting still and I appreciate her support."
The business for Niemi is, more than anything, a creative release. "If I can make something beautiful and useful, that makes me happy."