By Tom Rohrer

As a coach, it helps to be able to say 'been there, done that.'
Over twenty years ago, Elma girls' basketball coach Lisa Johnson was a standout point guard for the Eagles and led the school to three state tournament appearances between 1989 and 1992.
Now in her thirteenth year coaching at her alma mater, Johnson and the Eagles are looking to make their first trip to the 1A state tournament since the 2011 season.
On Thursday, Feb. 13, Elma opened up 1A District IV play by defeating La Center 49-40 to set up a semi-final match up with Woodland on Saturday, Feb. 15 at 8 p.m. at Kelso High School in Longview.
In order to qualify for the state tournament, which begins later this month, Elma will need to finish no lower than third place in the 8-team bracket.
Armed with a 14-5 record, including a 10-2 posting in 1A Evergreen league play, the Eagles are hoping to make the school's seventh state tournament appearance since Johnson took over coaching duties prior to the 2000-01 season.
"Three seniors on this year's team have been a part of the program all four years and they made the state tournament as freshmen," said Johnson. "They want to get back."
Elma appeared primed for a deep postseason run in 2013 with league MVP Megan Finger headlining a roster featuring six seniors.  That run never happened, due in large part to a hit from the injury bug. Finger went down with a torn Achilles and several other key contributors were sidelined in February, leading to consecutive defeats in playoff contests against Montesano and Rochester.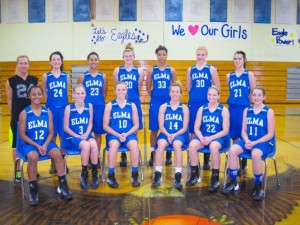 "Injuries cost us last year," Johnson said. "But we have responded and re-loaded with a new group this year."
Helping replace the six graduated contributors is a talented sophomore class that beautifully co-exists with the three returning seniors, two of which earned first or second team all-league honors in 2013.  The underclassman provide Johnson with deep bench, something she can turn to in case of foul trouble or an off night for a particular player.
"Our depth is huge because we're 12 girls strong," Johnson said. "Even with foul trouble, which we get in with our defense, we can go all the way into our bench and not lose anything. That's crucial."
"Girls trust each other.  If they have to come out, they know someone will come in. Our depth and trust, that's our two biggest strengths," she added.
The Eagles deep and talented roster looks to tire out opponents using a relentless, pressure driven defensive game plan.
If Elma's defense doesn't lead to a transition scoring opportunity, a reliable and efficient half court system is in place.
"We're defensively driven.  That's how we play," said Johnson, who played two season of basketball for Saint Martin's University following her graduation from Elma. "Whether its full-court press, half-court or zone, it's all about our pressure."
"We actually work the ball well in our half-court, but we've got some fast kids as well," Johnson continued. "We get some transition opportunities to score.  We're lucky in that we can play both styles."
In order to prepare her young team for the rigors of league and postseason play, Johnson continued her tradition of scheduling challenging opponents to start the season.
Elma lost 54-44 in the season opener Black Hills, considered a state tournament contender at the 2A level, and would play in an invitational tournament in Seaside, OR, over the holiday break.
"I don't like to play weak teams, and playing tough teams make us better. It helps you prepare," said Johnson. "And a trip for a weekend down to Seaside, that helps with bonding and coming together as a team. We needed that with all the new girls."
Elma has won 10 of their last 12 contests since the trip to Seaside, with both losses coming against undefeated league champion Montesano.  Other than a 60-54 win over Rainier, Elma won by double figures in every one of their Evergreen League victories.
This consistent play and high effort intensity from the Eagles has earned high praise from Johnson.
"We've been able to be consistent because of the girl's effort," Johnson said. "They hustle and scrap for everything."
This scrappiness and intensity is passed down from seniors Brooke Goldsmith (point guard) and Sydney Smythe (shooting guard) and sophomore guard Maddie Thompson.
Goldsmith, a first team all-league performer in 2013, leads the Eagles in scoring, assists and steals while Smythe (second team all-league in 2013) provides lockdown defense.  Thompson's shooting ability has always drawn the attention of opposing defenses but it's her improvement driving to the basket that has been a key for the Eagles this season.
"Brooke is by far one of quickest point guards in the state.  She's an awesome defensive team player and is a team captain.  That is what you want out of a four year starter," said Johnson. "(Smythe) defends, grabs rebounds and just plays with incredible effort.  She's by far the best defender on the team."
"Maddie plays great with Brooke and can do it all offensively," Johnson added. "This year, she's giving 100-percent on the defensive side as well."
While the Eagles leading trio couldn't propel Elma to a victory over rival Montesano, the experience from those two games is something Johnson believes will help her team in the playoffs.
"Those Monte games gave us an idea of what to expect at this point of the season," Johnson said. "They're rivals and a good team so the gymnasium was packed with 1,500 people.  You need to be able to play in that environment to make a run."
Those great environments were a testament to the devoted Elma fan base, which Johnson expects to follow the Eagles throughout post-season play.
"You cannot beat Elma Eagle fans," Johnson gushed. "They come in and support all programs and it's awesome to be in our gym.  It's been packed and there is nowhere to sit.  When we travel to Chehalis for districts, there will be another huge crowd to play in front of."
Johnson experienced the same fandom during her time as an athlete at Elma High School.  The lure to lead the program that helped her develop as a person was strong, and it's been an unforgettable run for Johnson in her hometown.
"It's been a great experience.  I love basketball, and it's been a huge part of my life since I was nine," Johnson said. "I love the game, love the kids and that's helped this whole thing come full circle.  It's funny to think that I'm able to do that, to bring it back full-circle.  It's really awesome."