By Carmen Myrick
The first thing you notice when you approach a pen of hungry alpacas is a low keening hum, barely audible. At first you think you're imagining it, but then as you get closer to the pack, you realize it's coming from the group of shaggy animals staring at you out of the largest and blackest eyes you've ever seen.
Allison Moss-Fritch, who has been breeding alpacas for the past ten years and owns New Moon Alpacas, calls it moaning, but to me, it is more of a mournful keening sound, kind of like birds warbling, but without the breaks that make up a true warble. It's really a beautiful sound coming from a beautiful animal.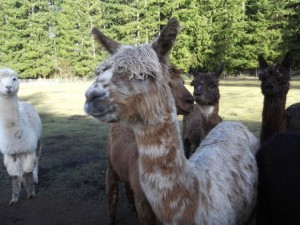 I had the chance to meet Moss-Fritch recently at the 10-acre farm outside Elma. Moss-Fritch has been fascinated with the science of breeding for most of her life, but she didn't get her first alpaca until 2004, when she bought a pregnant female named Pixie Dust. She was in California at the time, still in fast lane as a mother, attorney, and juvenile court judge. At that time, she didn't have her own pastures, so Pixie Dust was agisted (boarded) nearby her home in Santa Clara. More alpacas soon followed, and Moss-Fritch realized, as she entered retirement, that she needed to find her own pastures for her growing herd. Western Washington seemed to have the nicest pastures at good prices, so she packed up her herd in a truck and headed for Elma.
Ten years later, New Moon Alpacas is home to about 50 alpacas. Moss-Fritch can name each one by sight, and she considers them her friends. Each of three main groups – young males, studs, and females with cria (babies) has its own pasture complete with water, power, and shelters. When you walk up to them as they stand in the pasture, the alpacas show a quiet grace.  They move slowly for a farm animal, and are intently interested in everything you are doing. They don't let you pet them, but they will let you feed them treats. There's a comical hat of fuzzy hair that sits right atop their heads and often times falls over their eyes, providing needed shade, as Moss-Fritch points out. Their colors vary from a cream color to a deep black. There's even a polka dotted one. It's all in the breeding, says Moss-Fritch.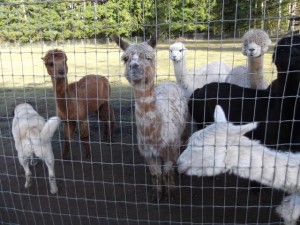 Why breed alpacas? Moss-Fritch explains, "Well, I had bred dogs. I had bred sheep." The scientific aspects of breeding have always appealed to the retired attorney since she was a child, and she knew that someday she wanted to farm. "I wanted to be out in the country. I wanted something I didn't have to butcher," she says. Alpacas, she points out, are a renewable resource. "They have a soft impact on the earth," Moss-Fritch says.
Two varieties of alpacas exist in the U.S. – huacaya and suri. About 90 percent of the U.S. herds are huacaya. Suri fleece is the more valuable of the two, says Moss-Fritch, but harder to sell because of its higher price. Moss-Fritch's alpacas are about 50 percent suris, by her intention. She's meticulous about only raising the highest quality alpacas with the finest fleece. "I put together some pretty fancy genetics," she chuckles.
The market for alpaca hair is in so called skirted fleeces, purchased by people who want to spin it (called spinners), and for the raw fiber. Alpaca fleece is made into a variety of products, such as blankets, sweaters, scarves, and clothing, including dresses and mens' suits. For the most part, alpaca clothing is still considered a luxury product. Alpaca products are valued for many of the same qualities as sheep's wool – it's extremely light, yet warm and water repellent. Unlike sheep's wool, it contains no lanolin, so is hypoallergenic.
The process for producing alpaca fleece varies whether you want to make yarn out of it or if you want to make a felt-like material. The hair first has to be washed, cooled, and dried. Then you separate the fine hair from the coarse hair. To make yarn, you separate the fibers and making a long string, called a roving. Hair from the back and shoulders of an alpaca is finer than the hair from its legs. To make the felt, you use hot water and soap and a rolling pin of some kind – a larger rolling pin, like a long pole, can be used to make larger pieces of felt. When you make the felt, you get it wet, add soap, and keep rolling it out until it's a felt-like texture.
Interestingly, sorting of alpaca hair, says Moss-Fritch, is somewhat controversial in the industry. "There's funny lapses in the production chain for color and quality of fiber." The fiber has to be sorted, but there's currently no industry standard for sorting. One sorter may have gone to one sorting school (yes, there are schools that teach you how to sort alpaca hair) and another sorter to another school, and they may have been taught different techniques. Additionally, alpaca fiber buyers can be biased for or against fiber sorted by one sorter versus another.
Alpaca meat, called "viand" also plays into the market, but to a limited degree, for people who are allergic to other meats, notes Moss-Fritch.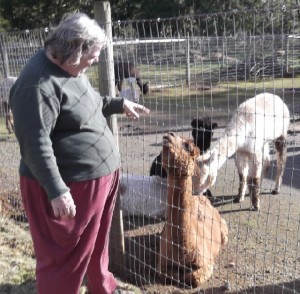 Moss-Fritch shears her alpacas once a year, in late May or early June. "If I shear any earlier I have freezing animals." If she shears later, the alpacas "stand in the fields and sweat," she says. Shearing once a year is recommended because over grown hair gets cotted and hard to use.
Moss-Fritch's background is in law. She's a retired California attorney, law instructor, and juvenile court judge. Today she substitute teaches for the Elma School District. She has three grown daughters and has raised nine foster kids over the years.
Moss-Fritch's outlook on life is altruistic. "I would like to think that by my sixth decade I could help somehow," she says. She encourages visits to the farm by special needs kids, whose experience with animals, she says, is invaluable because, "They get feedback that doesn't come from a grown up." She has several high school kids that work at the farm, some even doing hours for court-mandated community service. Moss-Fritch has also reached out to area churches to offer her garden areas for the creation of community gardens. In fact, she's offering anyone needing a piece of land to grow food a spot at the alpaca farm.
"Part of interacting with this community is giving people a chance to learn about a farm," she says. Like the alpacas she is breeding, Moss-Fritch's impact to the community is kind.
Additional information about New Moon Alpacas can be found here.