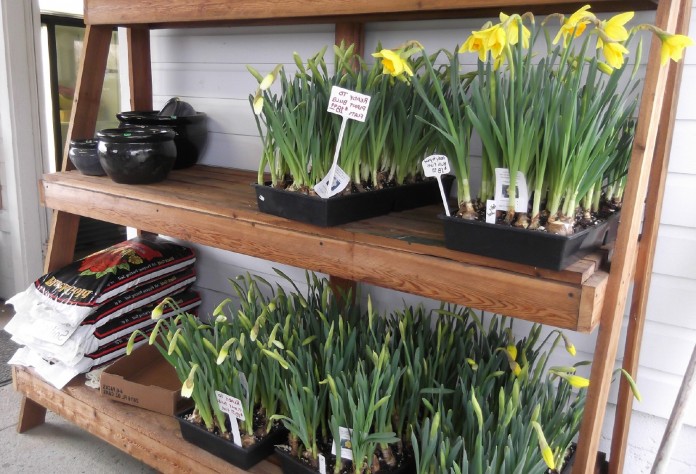 By Carmen Myrick
"The earth laughs in flowers," Ralph Waldo Emerson once said. And indeed it is true in the beautiful corner of the earth called the Satsop Bulb Farm located on the back road between Elma and Montesano.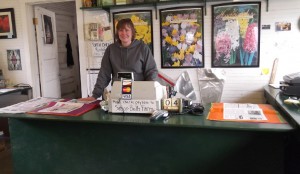 When you step into the building that doubles as showroom and store at the Satsop Bulb Farm, you instantly are rewarded with a sense of simplicity mixed with an overwhelming beauty. Flowers sporting every kind of bright color flame out at you from rustic tables. A gravel floor crunches underneath, and a milky light provides a benevolent glow. Everywhere you turn there are bright, almost neon, two-colored primroses — yellow and pink ones, red and yellow ones, blue and yellow ones, even a peach-and-yellow-colored variety. Copious purple pansies adorn the tables as well. And tons and tons of yellow daffodils greet you at every turn.
Karel Smith, one of the owners of the farm that's been family owned and operated since the 1940s, is busy at work in the store, filling invoices, taking orders, and greeting customers. Since the farm opened for the spring season about two weeks ago, she and her sister, Kris Edem, can hardly find a spare minute to do any non-farm-related stuff. They don't mind, though, it's a rewarding effort making people smile. "It's hard to be unhappy when you have flowers all around you," Smith says.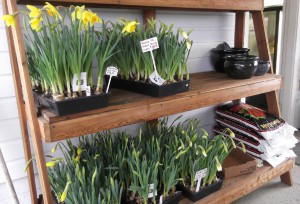 Out in the greenhouse, the same sense of calm pervades. Humid, with the perfume of flowers in the air, the tables are adorned with the bright colors of living flowers. The atmosphere makes one want to pull up a comfy chair, have a glass of iced tea, and just bask in the moment.
In addition to cut flowers, bulbs, and potted flowers, the farm also sells flower-related gifts, including amazing-looking faux-clay potted arrangements ("color bowls") and a small assortment of gardening necessities. The daffodils are available both in bulb flats for planting at your location or as cut unopened flowers that are ready to flower when you take them home – or deliver them to that special someone. The farm has a daffodil mail delivery service as well. In all, the farm grows about 70 different varieties of daffodils and 30 varieties of tulips. Prices are very reasonable and the flowers are as fresh and fragrant as if they came right out of your own home garden.
The farm also has a selection of blueberry plants in assorted variety, and some ground cover and grasses. The farm sells wholesale as well, notes Smith.
In the fall, the Smith and Edem families – the fourth-generation to run the farm — are busy selling bulbs that flower in the spring, including an assortment of tulips and daffodils.
The Satsop Bulb Farm is a pleasant drive any time of year.
Visit the Satsop Bulb Farm at 930 Monte Elma Road in Elma.  The Satsop Bulb Farm is open daily from 9:00 a.m. – 6:00 p.m.  You can connect with the farm through their website, Facebook page, or by calling 360-482-5566.