By Tom Rohrer
After nearly a decade as head coach of the girl's golf team at Elma High School, Michele Keating had a harsh realization.
She no longer could instruct the team's top two players.
Those two athletes happened to be her daughters Alexis and Lauryn.
"There aren't many teams with two Division I bound players,'" Michele Keating said. "They passed me by a while ago.  Now, they know what they're doing wrong or what needs to be worked on."
From a distance, the two sisters fit the prep sports stereotype: the coach's daughters whose skill separates them from the playing field.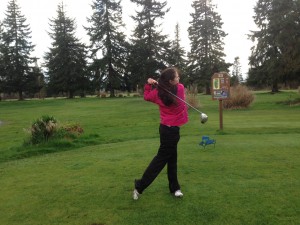 However, their personalities say different.
An accomplished player within state, national and international competitions, Lauryn, now a junior at Elma High School, gave an eye opening answer when asked about her favorite golfing memory.
"We have this tradition where we get (ice cream) as a team after every match," said Lauryn of the Elma High School tradition.  "We laugh, hang out….Those are the best times."
As a freshman in 2012, Keating and her older sister led Elma to the team's first state championship in school history.  Alexis and Lauryn finished second and third respectively in the tournament, adding to a special moment for the sisters and their mother to share.
"It's a proud moment in my life and really hard to even explain.  I was very emotional because it's something they had worked so hard for," said Michele. "I was their mom at that moment, not their coach."
"That was a really, really great time," Lauryn said. "I got to share that moment with my family and it's something we'll remember for a long time."
Immediately following Alexis in the standings at the tournament was nothing new for Lauryn.
Growing up, Lauryn would shadow Alexis, following her around the Keating household and to the driving range when they ventured outside.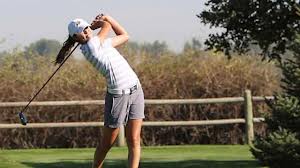 "I was around six or seven when I started playing.  I remember constantly going out to the course and watching my sister," she said. "I thought it was so cool to watch her play.  I told my dad I wanted to try it and from there, I kept going and going."
The sisters will be reunited as teammates once again in 2015, as Lauryn will join Alexis on the University of Colorado golf team in Boulder.  Alexis has competed in 55 rounds and posted two top 20 finishes since joining the CU roster in the fall of 2012.  She will be a senior when Lauryn arrives on campus, a reunion the younger sister is looking forward to.
"Having her on the team was a major factor in my decision," said Lauryn, who verbally committed to Colorado last summer. "I feel like we help each other a lot. We play in tourneys against each other and that pushes us to try even harder. That will help in college."
Before journeying to the Rocky Mountains, Keating hopes to add to her legacy on the state, national and international circuits.
Following her second consecutive 3rd place finish at the 2013 1A State Championships, Lauryn competed in the USGA U.S. Girls Jr. Championship at Sycamore Golf Club in Fort Wayne, Ind., and on the Washington team at the Girls Junior America Cup at the University of New Mexico Championship Golf Course in Albuquerque.  Keating will attempt to qualify for the two tournaments again and also hopes to add a trip to San Diego for the Callaway Junior World Golf Championships in July.
"It could be a really busy summer, but that's what I want to be doing," she said. "Traveling to play in these tournaments is a blast. You meet so many cool people and are getting the chance to play on these incredible courses."
Seeing yet another daughter compete against the best golfers in the world her age is always a proud moment for Michele.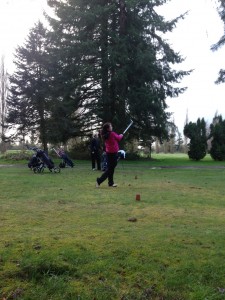 "Again, the mom in me comes out at those tournaments.  I know they are great opportunities, but Lauryn works so hard to earn it.  That's how Alexis was too," said Michele. "It's a lot of pressure, but it lays a great path down for her to follow.  Alexis really benefitted from the competition, and it still helps her today.  Lauryn is the same way, you can just see how much she has improved."
The consistent improvement by the Keating sisters is due in large part to the instruction they've received from their mother and father, Mark.
"I think it's been great having my mom as coach. She knows me better than anyone," Lauryn said of her mom. "She knows when something's going wrong, what's up with my mental state or if I need to correct something in my actual swing."
"He's helped so much, whether it's at high school practice or just working with my sister and me," added Lauryn about her father. "He has so much knowledge and can really pinpoint what I need to work on."
Still, like her older sister, Lauryn uses hard work to make the best use of her talent.
"They've always put the work in and what separates them from other kids is that golf isn't a seasonal sport for them," said Michele. "It's all year round for them and it always has been."
Every day, Lauryn spends at least two hours on the course followed by swing movement work in the family shop next door to the house.  Mark made a putting green and a platform where balls can be hit into the net.  Keating credits these indoor sessions for her performance during official matches.
"I just try to make sure every movement I make is correct," she said. "It's a whole bunch of repetition."
The extra practice is Keating's combatant for the high expectations she faces.  This pressure has been passed down from her sister and her own performance on the course.   Even with the expectations and pressure, Keating focuses first on being a great teammate.
"If someone is having a tough day or had a rough round, I try to pat them on the back, maybe give them a suggestion if they want," said Keating, the 14-15 year old division champion at the 2012 Washington Junior Golf Association State Tournament, "(Golf) is known for being an individual sport so I'm making sure I take advantage of this time."
During the spring and summer when the Grays Harbor weather warms up, the Keatings occasionally venture out to the course for a family competition.  While she's taken her fair share of losses at the hands of Alexis, Lauryn has noticed a change in the last few years.
"It's been iffy….Alexis always used to win," she said. "But I'm catching up."
No surprise there.