By Douglas Scott

Each April, Grays Harbor sees an influx of over 200,000 shorebirds, stopping for nearly three full weeks; eating, drinking and resting on a journey that will eventually end in the Arctic Circle. While they don't spend any money in town, these guests instead bring in curious onlookers from all over the Pacific Northwest. The annual return of the shorebirds is celebrated at the Grays Harbor Shorebird and Nature Festival, located at the Grays Harbor Wildlife Refuge in Hoquiam, Washington.
In 2013, thousands of visitors from as far away as Oregon, California and Idaho were drawn to Grays Harbor to see hundreds of thousands of shorebirds travelled from as far away as South America on their journey to breeding grounds clear up in the Arctic Circle. The 23 different species of shorebirds migrate each year, making the Grays Harbor Wildlife Refuge a stop for resting and eating on their amazing journey. While they are here for only 3 weeks, their arrival not only marks the start of spring, but also is a great time to start exploring nature in Grays Harbor County.
If the success of the 2013 Shorebird Festival is any indicator of the 2014 festival, then we are in luck for an amazing time. On the weekend of April 25 to April 27, the Grays Harbor Shorebird and Nature Festival are in full force with numerous events for birders of all ages and abilities. With a kid-friendly area where you can look into microscopes, make bird masks, learn bird calls and even participate in a procession parade; this is an ideal way to spend the weekend.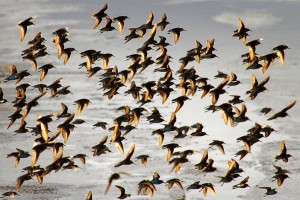 The festival doesn't just focus on shorebirds. It also highlights the return of Peregrine falcons to the region. Once nearly extinct, Peregrine falcons are the fastest flying birds on earth and enjoy eating the smaller shorebirds. Watching a peregrine falcon hunt is an incredible experience for all. As the peregrine falcons look to eat, the shorebirds group together and fly in huge flocks of birds, twisting and turning in unison.
"The Shorebird Festival is really great celebration of a nature phenomenon in our backyard.  Each and every year, it is a lot of fun," said Shelia McCartan, the Education Coordinator for the Grays Harbor National Wildlife Refuge and a member of the Shorebird Festival Planning committee, "With a Nature Fun Fair on both Saturday and Sunday, this event is fun for the whole family."
Free shuttles will run from Hoquiam High School to the boardwalk of the refuge, as well as numerous guided tours throughout Grays Harbor County, the accessibility to this festival is truly incredible. Detailed information on tours, including cost and schedule of events can be found at http://www.shorebirdfestival.com/
Once you are in town for the Shorebird Festival, other highlights in the region include going to the Polson Museum and the Lighthouse Museum in Westport. Take the day, watch shorebirds and learn about the history and culture right in our backyard. The Shorebird and Nature Festival is a great excuse to get outside and open your eyes to the beauty of nature, culture and history of Grays Harbor.
Best Bets for the 2014 Shorebird and Nature Festival
Friday:
When: 7pm
What: Keynote Speech: Gifts of the Crow
Cost: $15
Join Dr. John Marzluff of the University of Washington for a discussion on Crows and Ravens. Dr Marzluff is a wildlife biologist at the University of Washington, and has studied crows and ravens for more than 20 years. His research led to the discovery that crows and ravens can recognize individual faces and will respond to people based on how they were treated.
More information about his research can be found here: http://www.nytimes.com/2008/08/26/science/26crow.html?_r=0
Saturday:
When: 2pm to 3pm
What: Mask Making and Procession of the Shorebirds
Cost: Free
Join the naturalists at Grays Harbor Wildlife Refuge as they help kids and kids at heart make masks of birds and other local wildlife. This family-friendly event is not only fun, but is a chance to be creative and part of the birding community. Come early, make an awesome mask and stay for the fun of the procession of the shorebirds.
Sunday
When: 11:30am to 1:30pm
What: Guided Birdwalk
Cost: $1 Donation is asked
Join wildlife volunteers and experts along a guided tour of the Sandpiper Trail. Meet at the refuge kiosk on Airport Way to learn about the birds, the region and witness the amazing sights of hundreds of thousands of shorebirds along the way.