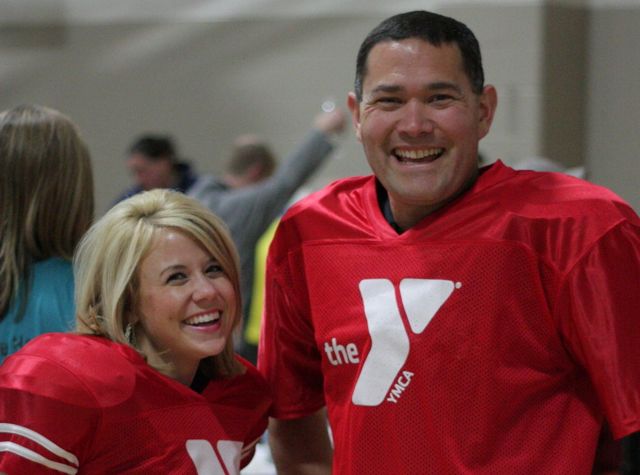 By Chelsea Royer
Laughter, shouts, and intermittent bursts of "booyah!" into a microphone was the energy held in the room, typical of kids and teens.  Instead, it was a lawyer, CEO, CFO, and Controller leading the chants.  Erik Kupka, Kurtis Dawson, Franzine Potts, and Katie Snodgrass are the four leaders, bringing together a room full of adults to kick off the YMCA of Grays Harbor's Strong Kids Annual Campaign.
The YMCA of Grays Harbor refuses to turn down kids due to an inability to pay. But memberships, camp admission, and the Harbor After School Program all cost money to run. This year, community members will be raising money to offset these scholarship costs.  The Strong Kids Annual Campaign goal is to raise $160,000 to sponsor local children. Any money raised beyond that milestone will be earmarked for improvements that benefit the kids. Last year, the campaign brought in over $177,000 in donations. In the Afterschool Program alone, more than 300 children were impacted.
Although the campaign only runs for about five weeks, Kupka and Snodgrass are working year round on the Y's Financial Development Committee.  They plan, organize, and think of ways to improve the campaign the following year. 2014 is the fourth year of the Kupka and Snodgrass duo. Their progress is dynamite.
Both Kupka and Snodgrass have deep Y roots. Snodgrass spent much of her childhood experiencing or working at Camp Bishop. Kupka's focus was on the youth swim team and eventually the Youth and Government program, where he was elected governor by more than 500 teens across the state. Programs like this were life-shaping for Kupka and Snodgrass, making them eager to give back.
"The Y affected us from a young age, which is why we're here today…because we really believe in the cause. All of our captains and campaigners believe in the cause.  That's why they keep coming back here year after year," insists Snodgrass, Controller of Rognlin's Inc.
Franzine Potts, the Y's CFO, showers a lot of credit on Snodgrass and Kupka and their multiple years of dedication. Due to their commitment and that of returning captains, she feels the fundraising campaign is really progressing. Potts explains they haven't experienced many setbacks because of consistent leadership – a sure sign that the team is doing something right.
Why is it so important that kids have the opportunity to be involved at the Y? Kurtis Dawson, Executive Director of the YMCA of Grays Harbor, believes the programs are about so much more than just skills. "It's not about skills as much as it is about experience. The child who goes through that experience of swimming across the pool for the first time when they probably thought, 'I'm never going to be able to do this, it's too hard' ….when they finally get to the point where they made it all the way across and they know the work that it took to get to that point, that builds self confidence knowing next time something comes into their life that's hard, if they put the work in, if they put the time in, if they have the right people helping them along, they can accomplish that goal as well."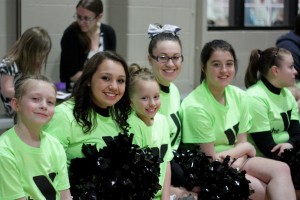 Dawson adds, "Swimming is a lifelong skill.  Swimming is a life-saving skill, but it is that self-confidence, that character building and those life lessons that are important. That's why we do the programs that we do. It's bigger than just the skills. It's about values and life lessons."
The Y is able to target local issues, such as childhood obesity, and gives more kids the opportunity to have a stable environment in their lives – a priceless commodity. "It's our way of giving back to the community, of giving back to the Y. As Winston Churchill once said, 'I never worry about action, only inaction.' And we're doing our part by acting," summarizes Kupka, an attorney at Ingram, Zelasko and Goodwin.
The Strong Kids Annual Campaign kickoff began with a bang (and lots of cheerleading) on April 16.  The campaign will continue the next several weeks until the end of May. The campaigners will be meeting intermittently between now and the end of the campaign.  If you're curious, feel free to attend one of their get-togethers.
Kupka and Snodgrass love sharing the excitement and fun of making a difference in the lives of Grays Harbor kids.