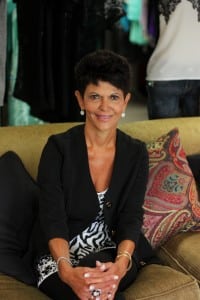 I love to shop and walking into All Blinged Out in downtown Montesano, I found myself enchanted. Beautiful clothing is a weakness of mine – here, lace and sparkles are everywhere! I fingered the fabric, checked price tags and sizes, and wished I was there to shop rather than work.
Who knew all these trendy clothing options were in my hometown? Not only is there "bling" (as the sign suggests), and name-brand jeans, but there is also variety – beautiful items I could afford, fun jewelry, and sparkly shoes. There were also plus-sizes, something I did not expect to see.
For Aissa Rognlin, owner of All Blinged Out, the variety is deliberate. She saw the need in Grays Harbor for a clothing store that catered, not just to the younger trends, but also to moms and plus-size women. "There aren't a lot of places to go clothes shopping in Grays Harbor. We want to cater to different price points so that people don't have to drive all the way to Olympia to go shopping," explains Rognlin. With an attempt to carry gift items and, more recently, a men's line of clothing, the effort has been made to reach a wide range of shoppers.
Carrying plus-size clothing is an especially important aspect of the business to Rognlin. Store Manager, Kelli Norris shares, "We think all women are beautiful no matter what shape or size they are."
It has been a learning process for Rognlin and Norris – both women are naturally petite and learning to purchase clothing for other body types is something on which they are still educating themselves. The duo make a deliberate effort to shoot down the stereotypes and assumptions many people make. "Every woman who walks in here, the first thing they do is point out their flaws because we are all like that…Women come in here and make comments like, 'Oh, you're skinny and you look good in anything. I can't wear that.' We respond, 'Well, we have things that will look good on you.' We are thin women – that's genetics. We try not to let people focus on that when they come in…it's not about shape or size," says Rognlin.
Many women who walk through the doors of All Blinged Out enter with assumptions about what will or won't look good on them. Rognlin and Norris work hard at breaking women out of their comfort zones and encourage their customers to try on new or different styles. "We are very honest," Norris insists. "We don't tell people things that aren't true just to make a sale. We don't want buyers remorse. If someone walks out of the dressing room with something that's not flattering we tell them."
Though some customers prefer to be shop quietly, there are those who ask for help dressing for a concert, first date, or special outing. Norris and Rognlin are more than happy to advise women how to dress and, more importantly, form bonds with their customers.
All Blinged Out has a loyal and supportive client base. There are those who come to shop and those who come just to talk and visit. It's something Rognlin and Norris love to see as they truly appreciate their customers. "We really appreciate all the support from the community. We wouldn't have a business without them. Even those who don't purchase anything are supportive when they walk into our shop and see what we have to sell. No one has had anything negative to say," beams Norris.
With a successful business comes the opportunity to give back to the community. Rognlin chooses to focus on anything that benefits the kids and youth of Grays Harbor. Amongst other donations, Rognlin makes it a point to sponsor local sports teams. She is very proud of their "All Blinged Out Warriors" softball team that have recently achieved the USSA Washington U8 State Championship.
Rognlin and Norris have complementary personalities and abilities. Often mistaken for sisters, the duo is truly dynamic when it comes to ideas and follow-through.
All Blinged Out has recently moved a couple of doors down to a larger space, but their recent expansion will probably be their last as Rognlin prefers to only manage one retail location. By keeping it small, she can run a successful business, satisfy her shopping appetite, and connect to and impact her community. Her new location remains in the Monte Square, only bigger and better with more selection and improved layout.
I can't wait to go shopping!
100 Brumfield Ave, Suite 6 in Montesano
360-249-3000
Hours:
Tuesday and Wednesday – 10:00 a.m. – 5:00 p.m.
Thursday through Saturday – 10:00 a.m. – 6:00 p.m.
Sunday – 12:00 p.m. – 5:00 p.m.
Closed on Monday