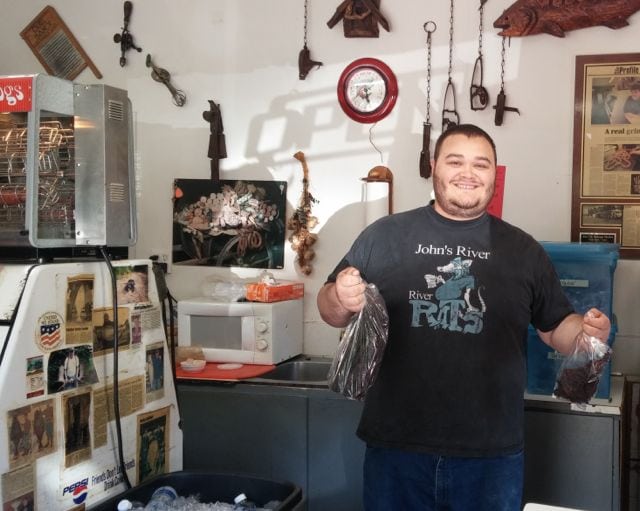 By Lisa Shell
Meet Ronda Strode, owner and operator of  Bay City Sausage Company. For more than a decade Ronda has been mastering the art of preparing sausage. Her recipes are delicious. Ronda's customers give two big thumbs up and often recommend their favorites to friends. Favorites like handcrafted kielbasa, beef jerky, smoked turkey legs, and german garlic sausage.
At the start of this adventure, in 1996,  Ronda found herself unemployed and in search of a new job. Reflecting back Ronda says, "Those were hard times, I looked and looked for a job, but no one would hire me." This hardworking, friendly, ex-waitress from Westport found herself out of work, on welfare, a mother of two, and desperate to find a new job. One day she ventured into to Aberdeen to test for a Walmart position. As fate would have it, on the return trip home from Aberdeen, she stopped by Bay City Sausage for some beef jerky.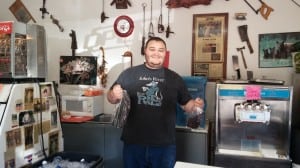 Ronda found a sign on the front door of the establishment reading, " The help didn't show up today, to place an order come to the back." This was her chance. She marched right up to the back door and said, "I noticed your help didn't show up, I can work for you, I am a good worker and I need a job!" She was hired on the spot. Her first day off was 21 days later.  She worked in the retail store during the day. In the evenings, she stayed late to watch the owner at the time, Dave Driver, make sausage.
A short time later she became manager of the retail store during the owner's absence. It took about three years to decide to purchase the business for herself. Her first loan application to the Small Business Association was denied. She pressed on, seeking help. Her continued focus led her to the Grays Harbor Development Council. They helped her get half the money and the Cascadia Revolving Fund delivered the rest of the loan. Five years later, her loan was paid off and she became the proud owner of Bay City Sausage.
Reflecting back, Ronda says, "Dave always made sausage in the evenings. After waiting all day, he would start." It took Ronda a year of watching before she was ready to make sausage on her own. At the right moment she said to Dave, "I'll make the sausage tonight." She's been improving her craft ever since. Ronda starts each morning making fresh sausage.
Handcrafted, fresh and smoked sausages are the specialty of her business. Tempting menu items include sausage on a stick, smoked swiss, cheddar and Havarti cheese, cheese curds, linguica, summer sausage,  bratwurst, chorizo, breakfast links and sausage on a hoagie for lunch. There is also appetizing pepperoni snacks, beef sticks, teriyaki sticks, beef jerky, spicy jerky, smoked turkey legs and turkey treats. Be sure to try Ronda's award winning smoked salmon and some of the best chorizo I have ever tasted.
Over the past 14 years,  Ronda has perfected recipes and built her business on a firm foundation.  You can find her, her son Kyle (2009 State Wrestling Champ),  and daughter Kami greeting customers and creating appetizing delights at Bay City Sausage.
Bay City Sausage is located along State Route 105 where there are several places that offer a variety specialty foods. I suggest adding Bay City Sausage to your itinerary. If you are a meat lover, stock the cooler with your choice of flavorful meats and cheeses. Ronda says, "Our customer favorite is the German Garlic smoked sausage. Kyle's favorite is apple cinnamon, and my favorite is the Hungarian Sausage."
To this writer's surprise, Bay City Sausage offers a superb selection of party trays for all occasions. The next time I need a party tray that is finger licking good, I will order a party tray with Kielbasa, pepperoni, smoked cheese and smoked salmon.